Athenaeum Location
Print Newsletter
March 8, 1999
Vol. 14, No. 09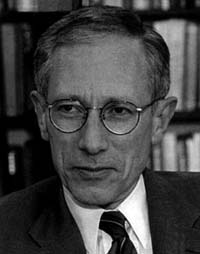 Global Markets and International Finance
STANLEY FISCHER
MONDAY, MARCH 8, 1999
Stanley Fischer is one of the world's leading authorities on international finance, as well as one of its most important policymakers. As First Deputy Director of the International Monetary Fund, a post he has held since September 1994, Fischer is responsible for formulating and managing much of the Fund's policies in Russia and the Asian markets. While at the Fund, he has helped direct the international organization through turbulent economic times abroad, often serving as the IMF's point man in crises from Jakarta to Latin America to Moscow. Fischer has also sought to improve the way in which the organization deals with financial trouble in foreign countries.

Prior to taking his position at the IMF, Fischer was Killian Professor and head of the department of economics at MIT. From 1988 to 1990 he served as Vice President, Development Economics and Chief Economist at the World Bank. A native of Zambia, he received his bachelor's and master's degrees from the London School of Economics and obtained his Ph.D. in economics from MIT in 1969. He was assistant professor of economics at the University of Chicago before returning to MIT as associate professor in 1973. He has held visiting positions at the Hebrew University, Jerusalem, and the Hoover Institution.

Fischer has written several economics texts, was editor of the NBER Macroeconomics Annual, and has published extensively in the professional journals. He is a Fellow of the American Academy of Arts and Sciences and a member of the Council on Foreign Relations. Please join the Athenaeum as we welcome one of today's leading economists and international policymakers.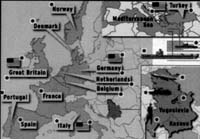 NATO and the Crisis in Kosovo
MICHAEL RUHLE
TUESDAY, MARCH 9, 1999
Hardly had the United States and its European allies worked out an uneasy peace between Serbia, Bosnia, and Croatia when new fighting broke out in Kosovo. Fueled by the resentment of the Albanian majority and the fears of Serbs at the loss of sovereignty, the conflict threatened to descend into the same pattern of ethnic cleansing, atrocity, and intolerance that had marked the earlier conflict in Yugoslavia. Torn by their sense of moral obligation on the one hand and the difficulty of arriving at a viable settlement on the other, the United States and the nations of Western Europe have grudgingly been drawn deeper and deeper into Kosovo. The latest proposals call for stationing thousands of U.S. and European troops in Kosovo for three years while Albanians and Serbs attempt to find a basis to agree about the future. The conflict in Kosovo thus presents the same intractable dilemmas that seem to be becoming commonplace in the post-Cold War world.

Michael Ruhle's position as Senior Policy Analyst at NATO Headquarters in Brussels has given him an insider's knowledge of the developing conflict in Kosovo.

An expert on European security and strategic planning, Ruhle studied law and political science at the University of Bonn and then worked at the Research Institute of the Konrad-Adenauer-Stiftun as a Volkswagen Fellow. He also spent several months as a visiting fellow at the Center for Strategic and International Studies in Washington, D.C. Since 1991, he has served at the North Atlantic Treaty Organization (NATO) headquarters in Brussels and has become a senior planning officer in the policy planning and speechwriting section in the political affairs division.

Ruhle's recent publications include: "NATO's Evolving Role in the New Europe" in European Security (Fall 1992); "The End of the Armchair Strategist" in Comparative Strategy (April-June, 1993); and "NATO and Crisis Management" in European Security (Winter 1994).

Michael Ruhle's visit to CMC is cosponsored by the Atlantic Council of the United States and CMC's Keck Center for International and Strategic Studies.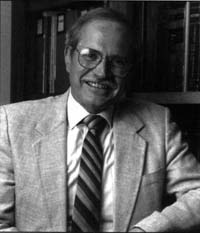 The Legal Struggle for Medicinal Marijuana
GERALD UELMEN
MONDAY, MARCH 22, 1999
Gerald Uelmen is best known to many as a prominent member of O.J. Simpson's defense team in his 1995 criminal trial. Uelmen's career, however, is as balanced and wide ranging as any in the legal profession. Currently, Uelmen is a professor of law at Santa Clara Law School, where he served as dean from 1986 until 1994. He has also taught at Loyola Law School and served as a visiting law professor at Stanford University. He has taught courses in criminal law, criminal procedure, drug abuse law, evidence, and legal ethics.

A graduate of Loyola Marymount University and Georgetown Law School, Uelmen has also worked for the U.S. Attorney's Office in Los Angeles. He helped represent Daniel Ellsberg in his 1973 trial and has worked dozens of other high-profile cases. He is a past president of California Attorneys for Criminal Justice, the California Academy of Appellate Lawyers, and chair of the Executive Committee of the Criminal Law Section of the California State Bar.

Uelman has years of experience in the litigation of cases involving drug use and the law, including coauthoring a two-volume work entitled Drug Abuse and the Law Sourcebook (1982). Currently, he is cocounsel in federal court for the Oakland Cannabis Club, and also represents Peter Baez in a San Jose case charging criminal distribution of marijuana for operating a medical cannabis center. Please join us as we welcome this noted attorney and legal scholar for a lecture and discussion on this controversial topic.

Professor Uelmen's lecture is part of the series Law and Society planned in conjunction with the department of psychology at CMC.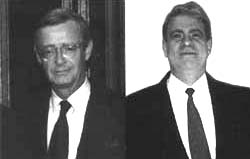 Antitrust in the 21st Century: The Microsoft Case
DAN OLIVER
BENJAMIN KLEIN
TUESDAY, MARCH 23, 1999
Few cases have as much at stake as the United States v. Microsoft. When the U.S. Department of Justice decided to sue Microsoft on charges that they violated federal antitrust laws, the Internet industry, heretofore untouched by most government regulations, was subjected to intense scrutiny. The case offers insight into how antitrust laws like the Sherman Act, already a century old, will be applied in the 21st century.

There is no doubt that Microsoft is a leader in the software industry. In a marketplace that increasingly demands rapid change and innovation, technical complexity, and flexibility, the degree to which Microsoft has used its market leverage to thwart competition remains unresolved. By bundling its software accessories and employing other aggressive tactics, Microsoft's competitors claim the giant is using its monopoly power to limit their access to the Internet market. Microsoft claims they are only keeping up with market changes to remain competitive. The current federal case will be crucial in deciding what degree of government intervention will be tolerated in the new market, just how competitive that market will be, and whether or not Microsoft or other firms will be allowed to use similarly aggressive tactics.

Here to discuss and argue the impact of the case are Daniel Oliver and Benjamin Klein. Oliver sides with the government's case. He is an attorney and former Chairman of the Federal Trade Commission in the Reagan administration. He sits on several boards, is a past president of the Philadelphia Society, and is Chairman of the Pacific Research Institute for Public Policy. Klein will argue in favor of Microsoft's defense. He is a Professor of Economics at UCLA, having extensively published in the fields of Industrial Organization, Law and Economics, and Antitrust. He is a former staffer with the FTC and is currently a partner with the Economic Analysis Group, a consulting firm based in Los Angeles. He has also consulted for Microsoft. The Athenaeum is pleased to welcome these two distinguished guests as they argue the merits of the government's case and contemplate the future of the Internet market.

This event is cosponsored by the Athenaeum and the Salvatori Center.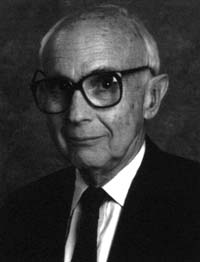 The Media and Corporate Leadership
JAMES MICHAELS
WEDNESDAY, MARCH 24, 1999
James Michaels ended one of the longest editorial reigns in American magazine history on December 31, 1998. After 37 years and nearly 1000 issues he gave up day-to-day editing of Forbes Magazine to become Group VP/Editorial of Forbes, Inc. In his new assignment Michaels is responsible for moving Forbes beyond print into TV, books, newsletters and the Web.

Michaels' journalistic career began in 1946 when, as a young veteran of WW II he was hired by the United Press as its bureau chief New Delhi, India. His coverage of the assassination of Gandhi was included in a Simon & Schuster book subtitled "The 100 Greatest News Stories of All Time" (1949).

Michaels joined Forbes in 1954, agreeing with Malcolm Forbes that business publications needed to adopt lively writing and drop the worshipful attitude toward business people. Two years later he was promoted to Managing Editor, becoming Editor in 1961. He is widely recognized as a pioneer in business journalism having won several awards, including the prestigious Gerald Loeb Award for lifetime contributions to financial journalism. In the years since he joined the company, Forbes has climbed from a relatively obscure magazine with a circulation of 130,000 to a leading business magazine with a circulation of 785,000.

James Michaels is the E. L. Wiegand Foundation Visitor-in-Residence at Claremont Graduate University.
Claremont Colleges Debate Union: This House Supports Rule by the Elite
CLAREMONT COLLEGES DEBATE UNION
vs.
THE IRISH NATIONAL DEBATE CHAMPIONS
THURSDAY, MARCH 25, 1999
LUNCH 11:45 A.M., DEBATE 12:15 p.m.

The Claremont Colleges Debate Union is pleased to sponsor a public debate in the traditional parliamentary format, featuring the Irish National Champions and award-winning students from the Debate Union.

Parliamentary debating has long been a vital part of competitive academic debating. Based loosely on the historic deliberative discussion of the British House of Commons, parliamentary debate is lively, witty, and audience-oriented. Unlike other forms of public or competitive debate, there are no prepared speeches, argument briefs, or quotations read in parliamentary debates. The debaters speak extemporaneously on a topic announced a few minutes prior to the event. Humor, passion, and persuasiveness are important elements in parliamentary debating, in addition to insightful argumentation. The debates are usually engaging and entertaining, with cheers, jeers, and clever heckles from the audience as a welcome part of the form.

The Claremont Colleges Debate Union is among the most successful competitive intercollegiate debate programs, ranking in the top ten in the nation for each of the past five years. This year's parliamentary debaters received honors at international tournaments at Oxford and Cambridge Universities, in addition to first place at the Pacific Cup Championship. Debaters also finished in first place at the National Round Robin Championship Debates, an event featuring the top twelve debate teams in the United States, selected from more than 150 participating colleges and universities.

Please join us for what promises to be an informative and entertaining event.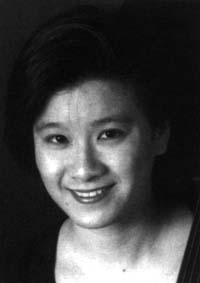 Music for Solo Cello
CAROL OU
THURSDAY, MARCH 25, 1999
Cellist, Carol Ou, has won the accolades of audiences and critics from the United States, Canada, and Asia. She was a top prize winner in the National Federation of Music Clubs Competition and the Irving M. Mein String Competition. The Republic described her playing as "masterful" and "utterly fabulous" while the China Times called her "a magician on the cello."

Born in Taipei, Taiwan, Ou immigrated to the United States at age ten and began studying the cello in Los Angeles. She earned her bachelor's and doctoral degrees from Yale University. Currently, she teaches at the New England Conservatory of Music in Boston.

Carol Ou has performed recitals and concertos in the United States, Canada, Taiwan, and Singapore. She has soloed with orchestras including the Contemporary Ensemble of Taipei, the Taipei District Symphony Orchestra, the Louisiana Philharmonic, the Yale Symphony Orchestra, and the Jupiter Symphony Orchestra in New York. She has also appeared at the Santa Fe Chamber Music Festival, the La Jolla Chamber Music Festival, and the Marlboro Music Festival.

Last year, the Chi-Mei Foundation of Taiwan released Ou's first compact disc of seventeen cello and piano pieces. Two additional solo collections are in progress.

At the Athenaeum, she will perform works of Bach, Beethoven, and Tchaikovsky. This concert is part of the Stotsenberg Chamber Music Series made possible through the generous support of Ed and Dorothy Stotsenberg, friends of CMC.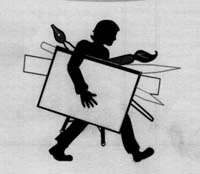 CALLING ALL ARTISTS !
In April the Marian Miner Cook Athenaeum will again host the spring student art show and reception. If you would like to submit some work to be included in the exhibit, please contact Bonnie Snortum, David Edwards, or the Athenaeum fellows, Jessica Brody and Tom Dawson, for further information.
ATHENAEUM FELLOW APPLICATIONS
Application forms for the position of Athenaeum Fellow for the 1999-2000 academic year will be available in the Athenaeum office on Monday, March 8. Completed applications must be returned by Friday, March 26 at 5:00 p.m.

Students desiring to be considered for the following year (2000-01) but who will be away from campus during the next year's selection process may submit their application now in order to be considered for the future position.