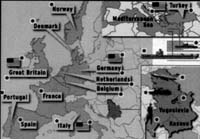 NATO and the Crisis in Kosovo
MICHAEL RUHLE
TUESDAY, MARCH 9, 1999
Hardly had the United States and its European allies worked out an uneasy peace between Serbia, Bosnia, and Croatia when new fighting broke out in Kosovo. Fueled by the resentment of the Albanian majority and the fears of Serbs at the loss of sovereignty, the conflict threatened to descend into the same pattern of ethnic cleansing, atrocity, and intolerance that had marked the earlier conflict in Yugoslavia. Torn by their sense of moral obligation on the one hand and the difficulty of arriving at a viable settlement on the other, the United States and the nations of Western Europe have grudgingly been drawn deeper and deeper into Kosovo. The latest proposals call for stationing thousands of U.S. and European troops in Kosovo for three years while Albanians and Serbs attempt to find a basis to agree about the future. The conflict in Kosovo thus presents the same intractable dilemmas that seem to be becoming commonplace in the post-Cold War world.

Michael Ruhle's position as Senior Policy Analyst at NATO Headquarters in Brussels has given him an insider's knowledge of the developing conflict in Kosovo.

An expert on European security and strategic planning, Ruhle studied law and political science at the University of Bonn and then worked at the Research Institute of the Konrad-Adenauer-Stiftun as a Volkswagen Fellow. He also spent several months as a visiting fellow at the Center for Strategic and International Studies in Washington, D.C. Since 1991, he has served at the North Atlantic Treaty Organization (NATO) headquarters in Brussels and has become a senior planning officer in the policy planning and speechwriting section in the political affairs division.

Ruhle's recent publications include: "NATO's Evolving Role in the New Europe" in European Security (Fall 1992); "The End of the Armchair Strategist" in Comparative Strategy (April-June, 1993); and "NATO and Crisis Management" in European Security (Winter 1994).

Michael Ruhle's visit to CMC is cosponsored by the Atlantic Council of the United States and CMC's Keck Center for International and Strategic Studies.