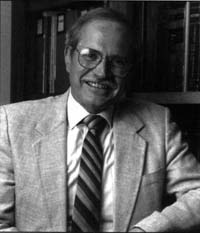 The Legal Struggle for Medicinal Marijuana
GERALD UELMEN
MONDAY, MARCH 22, 1999
Gerald Uelmen is best known to many as a prominent member of O.J. Simpson's defense team in his 1995 criminal trial. Uelmen's career, however, is as balanced and wide ranging as any in the legal profession. Currently, Uelmen is a professor of law at Santa Clara Law School, where he served as dean from 1986 until 1994. He has also taught at Loyola Law School and served as a visiting law professor at Stanford University. He has taught courses in criminal law, criminal procedure, drug abuse law, evidence, and legal ethics.

A graduate of Loyola Marymount University and Georgetown Law School, Uelmen has also worked for the U.S. Attorney's Office in Los Angeles. He helped represent Daniel Ellsberg in his 1973 trial and has worked dozens of other high-profile cases. He is a past president of California Attorneys for Criminal Justice, the California Academy of Appellate Lawyers, and chair of the Executive Committee of the Criminal Law Section of the California State Bar.

Uelman has years of experience in the litigation of cases involving drug use and the law, including coauthoring a two-volume work entitled Drug Abuse and the Law Sourcebook (1982). Currently, he is cocounsel in federal court for the Oakland Cannabis Club, and also represents Peter Baez in a San Jose case charging criminal distribution of marijuana for operating a medical cannabis center. Please join us as we welcome this noted attorney and legal scholar for a lecture and discussion on this controversial topic.

Professor Uelmen's lecture is part of the series Law and Society planned in conjunction with the department of psychology at CMC.