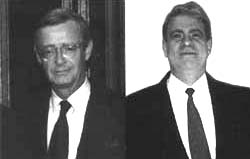 Antitrust in the 21st Century: The Microsoft Case
DAN OLIVER
BENJAMIN KLEIN
TUESDAY, MARCH 23, 1999
Few cases have as much at stake as the United States v. Microsoft. When the U.S. Department of Justice decided to sue Microsoft on charges that they violated federal antitrust laws, the Internet industry, heretofore untouched by most government regulations, was subjected to intense scrutiny. The case offers insight into how antitrust laws like the Sherman Act, already a century old, will be applied in the 21st century.

There is no doubt that Microsoft is a leader in the software industry. In a marketplace that increasingly demands rapid change and innovation, technical complexity, and flexibility, the degree to which Microsoft has used its market leverage to thwart competition remains unresolved. By bundling its software accessories and employing other aggressive tactics, Microsoft's competitors claim the giant is using its monopoly power to limit their access to the Internet market. Microsoft claims they are only keeping up with market changes to remain competitive. The current federal case will be crucial in deciding what degree of government intervention will be tolerated in the new market, just how competitive that market will be, and whether or not Microsoft or other firms will be allowed to use similarly aggressive tactics.

Here to discuss and argue the impact of the case are Daniel Oliver and Benjamin Klein. Oliver sides with the government's case. He is an attorney and former Chairman of the Federal Trade Commission in the Reagan administration. He sits on several boards, is a past president of the Philadelphia Society, and is Chairman of the Pacific Research Institute for Public Policy. Klein will argue in favor of Microsoft's defense. He is a Professor of Economics at UCLA, having extensively published in the fields of Industrial Organization, Law and Economics, and Antitrust. He is a former staffer with the FTC and is currently a partner with the Economic Analysis Group, a consulting firm based in Los Angeles. He has also consulted for Microsoft. The Athenaeum is pleased to welcome these two distinguished guests as they argue the merits of the government's case and contemplate the future of the Internet market.

This event is cosponsored by the Athenaeum and the Salvatori Center.