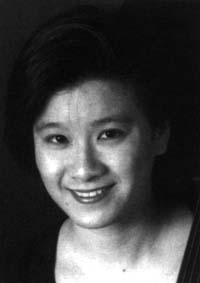 Music for Solo Cello
CAROL OU
THURSDAY, MARCH 25, 1999
Cellist, Carol Ou, has won the accolades of audiences and critics from the United States, Canada, and Asia. She was a top prize winner in the National Federation of Music Clubs Competition and the Irving M. Mein String Competition. The Republic described her playing as "masterful" and "utterly fabulous" while the China Times called her "a magician on the cello."

Born in Taipei, Taiwan, Ou immigrated to the United States at age ten and began studying the cello in Los Angeles. She earned her bachelor's and doctoral degrees from Yale University. Currently, she teaches at the New England Conservatory of Music in Boston.

Carol Ou has performed recitals and concertos in the United States, Canada, Taiwan, and Singapore. She has soloed with orchestras including the Contemporary Ensemble of Taipei, the Taipei District Symphony Orchestra, the Louisiana Philharmonic, the Yale Symphony Orchestra, and the Jupiter Symphony Orchestra in New York. She has also appeared at the Santa Fe Chamber Music Festival, the La Jolla Chamber Music Festival, and the Marlboro Music Festival.

Last year, the Chi-Mei Foundation of Taiwan released Ou's first compact disc of seventeen cello and piano pieces. Two additional solo collections are in progress.

At the Athenaeum, she will perform works of Bach, Beethoven, and Tchaikovsky. This concert is part of the Stotsenberg Chamber Music Series made possible through the generous support of Ed and Dorothy Stotsenberg, friends of CMC.