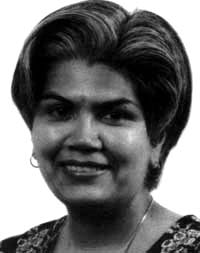 The Perils and Promise of Identity: Transformations of a Muslim Minority
TAZIM KASSAM
MONDAY, MARCH 29, 1999
Tazim Kassam, professor of South Asian religions at Colorado College, has studied Islam and Hinduism for nearly twenty years. She holds a bachelor's degree in philosophy and religion and a doctoral degree in the history of religion from McGill University in Montreal. She has also studied Hindustani music at the University of Bombay, India.

Currently, Kassam teaches courses on Islam, Hinduism, Women and Islam as well as on Bhakti poetry, drama and music in South Asian religions. She has authored a book entitled Song of Wisdom and Circles of Dance: Hymns of the Satpanth Ismaili Saint, Pir Shams (1995) and has published articles on various aspects of religion. She is working on her second book, The Liturgical Tradition of the Satpanth Ismaili Muslims.

Kassam's lecture will focus on the Ismaili Muslims, a minority within a minority in Islam. This community of fifteen million scattered around the world is diverse in race, language, and culture. A sect persecuted for centuries, the Ismalis exhibit an interesting history of self- representation and self-invention. Kassam will highlight some of these transformations and discuss the problems of identity with respect to recognition and survival.

Tazim Kassam will deliver the first annual L. J. Kutten Lecture in Philosophy and Religion, made possible through the generosity of L. J. Kutten '74.