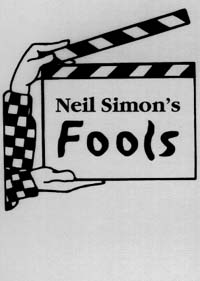 Dinner Theater
Fools by Neil Simon
Fifteen Minute Hamlet by Tom Stoppard
Thursday-Saturday April 1-3, 1999
DINNER AND PLAY 6:00 p.m.

Under the Lights is proud to present the final dinner theater of the millennium. This year we are pleased to bring to you two plays for the same low price under the direction of Chris Rogers and Bergen Moe-Fishman.

We will begin the evening with Tom Stoppard's (Shakespeare in Love) Fifteen Minute Hamlet (1978). With an introduction by Shakespeare (Chris Rogers) himself, this fast forward view of the tragic tale invites us to investigate along with Hamlet, the marriage of his mother, Queen Gertrud (Drew Bloomingdale), to his uncle, Claudius (Brad Wease) and the avenging of his father's murder. The lovable Laertes (Blake Gottesman) and the fair Ophelia (Camille Griep) join Hamlet's troublesome Ghost of a father (Justin Shiroff), to recreate the tragic play into a comedy like you've never seen before.

To continue the evening, join us for Neil Simon's Fools (1982). Far away in the town of Kulyenchikov, the good Doctor Zubritsky (Tony Pennay) and his wife Lenya (Camille Greip) have sent for help to save their town. The villagers of the small town have been cursed with ignorance and their only hope lies in the education of the Zubritsky's daughter Sophia (Nikki Smythe). Leon Tolchinsky (Karl Kahn), a young schoolteacher, answers the doctor's request and with the unwitting help of Snetsky (Brad Wease), Slovitch (Justin Shiroff), Mishkin (Tom Dawson), Yenchna (Steve Grove), and the Magistrate (Blake Gottesman), vows to save Sophia, himself and the rest of the town from eternal ignorance. But can the evil Count Gregor (Chris Monjoy) ruin Leon and Sophia's plans or will love conquer all? There's only one way to find out. Join Under the Lights for the event of the season.

Seating will be festival style and is limited. Sign up as soon as possible, circling your first, second, and third choice of date. You will be contacted if your first choice reservation date is unavailable.