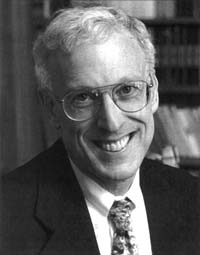 Leadership and Practical Intelligence
ROBERT STERNBERG
WEDNESDAY, APRIL 28, 1999
LUNCH 11:45 a.m., LECTURE 12:15 p.m.

Robert J. Sternberg is the IBM Professor of Psychology and Education at Yale University and a leading authority on human intelligence. His research is in practical intelligence, including his triarchic theory of human intelligence. The theory refers to three broad analytic, creative and practical categories of learning.

His current research is concerned with problems of human intelligence, broadly defined. With a group of researchers, Sternberg works to bridge the areas of cognitive, developmental, and social psychology. Examples of particular current projects are matching of instruction and assessment with patterns of abilities; effectiveness of various kinds of thinking-based instruction; tacit knowledge for leadership effectiveness; the nature of wisdom, information-processing bases of second language aptitude; and teachers' mental models of student abilities.

As the luncheon speaker for the Ninth Annual Kravis-de-Roulet Leadership Conference, Sternberg will discuss the role of practical intelligence, in particular, the importance of tacit knowledge. Tacit knowledge is what one uses in order to build practical intelligence, and it has special relevance to career success, especially for professionals and leaders.

Dr. Sternberg's appearance is part of the day-long Kravis-de-Roulet conference hosted by the Kravis Leadership Institute.