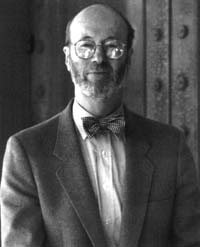 The Truthful Lens: A Survey of the Photographically Illustrated Books, 1844-1914
WESTON NAEF '64
WEDNESDAY, APRIL 14, 1999
Weston Naef, an alumnus of Claremont McKenna College, is the curator for the Getty Museum's photography collection. Upon graduation from CMC, Naef went on to Ohio State University and then Brown University, where he developed his interest in photography.

Naef has worked at the Boston Public Library in the Wiggin Print Collection and the Metropolitan Museum of Art in the Department of Prints, Photographs, and Illustrated Books.

Since 1975, Naef has curated several major exhibitions and published catalogues as well as books. His exhibitions include Era of Exploration: the Rise of Landscape Photography in the American West, 1860-1885 (1975 and Georgia O'Keeffe: A Portrait by Alfred Stieglitz (1978). In addition to the publications accompanying these exhibitions, Naef wrote about Stieglitz as collector in his book, The Collection of Alfred Stieglitz: Fifty Pioneers of Modern Photographs (1978). In collaboration with Lucien Goldschmidt, Naef authored The Truthful Lens: A Survey of the Photographically Illustrated Books, 1844-1914 (1984), the standard reference on books illustrated with photographs.

Naef has worked for the Getty Museum since 1989. His recent activities include preparing a survey of the photographs collection for publication by the Museum and contributing to publications on Julia Margaret Cameron, Carleton Watkins, Laszlo Moholy-Nagy, Doris Ulmann, Andre Kertesz, Alfred Stieglitz, Edmund Teske and Frederick Sommer.

This lecture by Weston Naef is the last of the Athenaeum series Artists and Inspirations.