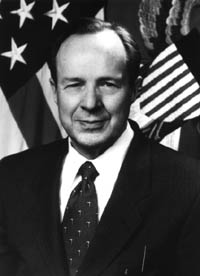 Economic Competition and Security Cooperation in the Asia-Pacific
WILLIAM PERRY
MONDAY, SEPTEMBER 13, 1999 4:00 p.m.
MARY PICKFORD AUDITORIUM
For more than a decade, the Asia-Pacific region has enjoyed a period of significant growth. Necessary for this growth, in the absence of an institution like NATO, is the security and stability in the region. This stability depends on a sort of "Pax Americana," which in turn depends on our alliances with Japan and Korea and a strong forward deployment of U.S. military forces. These alliances and troop deployments depend upon a deep cooperation with Japan and Korea, countries with which we also have intense competition in the commercial field. Can this economic competition coexist with our security cooperation?

In his talk William J. Perry will discuss factors underlying the economic and technological competition in the Asia-Pacific region. Perry, recognized as chief of this country's stealth technology and smart weapons, became U.S. Secretary of Defense in 1994 after serving one year as Deputy Secretary. During his tenure with the Department of Defense, Perry implemented innovative technological systems as well as cost-saving management practices. His expertise in technology and defense has earned him a number of honors including the Presidential Medal of Freedom and the Department of Defense Distinguished Service Medal.

Before joining the Clinton admistration, Perry was a professor in the school for engineering at Stanford. A senior fellow of the Hoover Institution at Stanford, Perry holds a joint appointment in the Department of Engineering-Economic Systems/Operations Research and the Institute for International Studies.

Perry received a B.S. and M.S. in mathematics from Stanford and a Ph.D. from Penn State. In 1964 Perry founded ESL (Electromagnetics Systems Laboratories) Inc.

William J. Perry's opening lecture in the 1999-2000 Athenaeum series is made possible with support from the Res Publica Society and the Keck Center. Reservations are not required to attend this 4:00 p.m. lecture in the Pickford Auditorium.