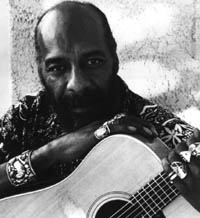 An Evening with Richie Havens
RICHIE HAVENS
MONDAY, SEPTEMBER 13, 1999
Richie Havens is a musician, songwriter, storyteller, and author. He has been performing and recording for over thirty years; combining amazing talent with a strong social conscience.

As a teenager in the 60s, Havens moved from the Bedford-Stuyvesant area in Brooklyn to Manhattan's Greenwich Village. He worked days as a street artist and toured the folk music club circuit at night. Eventually he landed a recording contract with MGM and in 1969 was the opening act at Woodstock. During his career, he has worked with Joan Baez, Bob Dylan, Jimi Hendrix, John Sebastian and Peter, Paul and Mary.

As well as extolling activism in his music, Havens is involved with numerous causes. He cofounded the North Winds Undersea Institute, dedicated to increasing youth awareness of environmental issues and has worked extensively with autistic children.

Havens's book, a memoir entitled They Can't Hide Us Anymore, was published in July. It is coauthored by Steve Davidowitz and James Jones, and is the story of his career, friends, and philosophy. Please join us at the Athenaeum for the music and stories of this great artist and activist. The dinner is open to the CMC community. All are welcome to the program.