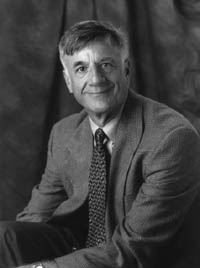 Have Americans Lost Their Virtue?
ALAN WOLFE
WEDNESDAY, SEPTEMBER 15, 1999
One of America's true public intellectuals, Alan Wolfe brings fair-minded scrutiny and rare insight to a dizzying variety of topics. A lucid writer who reaches a broad audience, he is perhaps most widely known for his learned and thoughtful essays in the New Republic on subjects ranging from the political philosophy of modern liberalism to race and identity politics, feminist theory, immigration, and the history of social policy.

Professor Wolfe, who teaches political science and directs the Center for Religion and American Public life at Boston College, also writes about culture and higher education. For The New York Times Magazine he has explored the changing nature of status in American society; for the Chronicle of Higher Education he has examined the role of faith in Catholic universities, the administrative style of former 1960s radicals who become deans, and the glut of unread (and unreadable) scholarly publication.

Yet despite his diverse interests, Wolfe's core concern remains the moral basis of civil society. As a social scientist he addresses fundamental questions of social and political theory through interview-based research, closely observing social life in all its complexity and ambiguity.

Wolfe has written and edited ten books, including the classic work, Whose Keeper? Social Science and Moral Obligation (1989). His most recent book, the highly acclaimed One Nation After All: What Americans Really Think About God, Country, Family, Racism, Welfare, Immigration, Homosexuality, Work, The Right, the Left and Each Other (1998), explores the moral beliefs of middle-class Americans as revealed in in-depth interviews around the country. The New York Times called it "a sober and valuable contribution to the debate about American divisions and values."

Before moving to Boston College, Wolfe was University Professor at Boston University. He has lectured widely at American and European Universities and was Fulbright Professor of American Studies at the University of Copenhagen. He has advised many academic and philanthropic organizations, including the National Endowment for the Humanities, the National Humanities Center, the Bunting Institute at Radcliffe College, the Lilly Endowment, and the Freedom Project of the Templeton Foundation. His current research focuses on the problem of moral authority and moral freedom in contemporary America.

It is a special pleasure to have Alan Wolfe inaugurate the 1999-2000 William F. Podlich Distinguished Visitors Program. This program was generously endowed by CMC alumnus and trustee William F. Podlich '66 whose aim is to enrich the college intellectually by bringing preeminent figures in scholarship, business, and public affairs to campus for extended visits. Under these auspices, the CMC government department will host four renowned guests, of whom Wolfe is the first.