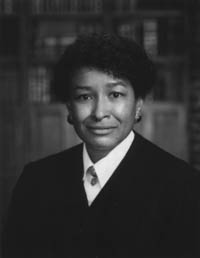 Interpreting the Constitution
JANICE ROGERS BROWN
THURSDAY, SEPTEMBER 16, 1999
In recognition of Constitution Day, the Athenaeum is honored to sponsor a lecture by Associate Justice Janice Rogers Brown, the first African-American woman to serve on the California Supreme Court. A graduate of UCLA Law School, she previously served as associate justice of the Third District Court of Appeal and as legal affairs secretary to Governor Pete Wilson.

Having worked to put herself through Cal State Sacramento as a single mother, Brown advocates personal responsibility in her writings and speeches. She has complained that the United States is becoming a "nation of whiners."

Since her elevation to the Supreme Court on May 2, 1996, Justice Brown has earned a reputation as its most conservative member and for her pointed dissents and her spirited criticism of judicial activism. Concerning judicial activism, she has attacked as "folly" efforts by the court to play "the role of philosopher kings." "The quixotic desire to do good, be universally fair, and make everybody happy is understandable," she wrote. "Indeed, the majority's zeal is little more than a little endearing. There is only one problem with this approach, we are a Court." She does not worry that her frequent dissents may marginalize her influence on the Court. When introduced recently at a legal event, she was compared to former California justice Jesse Carter, who filed 493 dissents from 1942 to 1959. Justice Brown merely smiled and quipped: "I wrote down the number, because I always like to have a goal."

This is the first In a series of lectures on the U. S. Constitution.