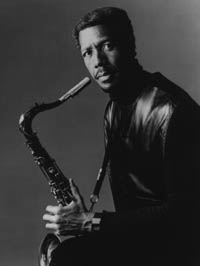 American Jazz Institute Band: A Tribute to John Coltrane
BILLY HARPER, saxophone
MARK MASTERS, conductor, American Jazz Institute Band
JOE LABARBERA, drums
GREG RILEY, bassoon
JACK MONTROSE, bass clarinet
LES LOVITT, trumpet
DAVE WOODLEY, trombone
STEPHANIE MIJANOVICH, french horn
BILL ROPER, tuba
MILCHO LEVIEV, piano
LOUIS SPEARS, bass
MONDAY, SEPTEMBER 20, 1999
Billy Harper is a first class saxophonist who has toured throughout the United States, Europe, and Japan, sharing his unique soulful music. He began performing at age 5 in a choral group and started playing saxophone at 11, forming the Billy Harper Quintet while attending high school in his native Texas. Harper graduated with a major in saxophone from North Texas State University in 1965. For the next thirteen years, he performed with numerous groups, including the Thad Jones/Mel Lewis Big Band and Art Blakely and the Jazz Messengers, while maintaining his own quintet.

He has recorded with Louis Armstrong, Elvin Jones, Woody Shaw and many others. He has taught music at Rutgers University, Livingston College, and various high schools, and has released numerous albums with his quintet.

Harper's music is harmonious but unrestricted. He plays traditional jazz but utilizes the full range of the saxophone. He writes Coltranesque compositions and performs with a strong Texas sound. Please join us as this master teacher, composer, and saxophonist pays tribute to the great John Coltrane. Billy Harper will be performing with a 10-piece band under the direction of Mark Masters. This concert is cosponsored by the American Jazz Institute.