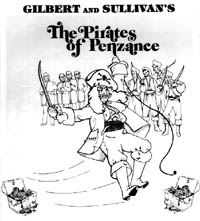 The Pirates of Penzance: A Performance Preview
RICHARD SHELDON, director
NICOLE BEGUE
CRAIG GILMORE
ROLLIN LOFDAHL
TRACY VAN FLEET
JIM BROWN
RITA BAKER
THURSDAY, OCTOBER 7, 1999
At a time when some producers feel the need to update these wise and witty Victorian treasures with modern settings or revisionist jokesmanship, Sheldon's company remains steadfast in its belief that the authors knew best.

-Alan Rich

"And it is, it is a glorious thing; to be a Pirate King." Gilbert and Sullivan's Pirates of Penzance opened on December 31, 1879 at the Fifth Avenue Theater in New York. Arthur Sullivan conducted. One hundred and twenty years later, the musical's true wit is displayed by the OPERA A LA CARTE, founded and directed by Richard Sheldon.

The OPERA A LA CARTE theater company was founded in Los Angeles in 1970. It specializes in works by Gilbert and Sullivan and has performed Cox and Box, The Mikado, H.M.S. Pinafore, Patience, Trial by jury, The Zoo, The Gondoliers, and The Pirates of Penzance. It has earned a superb reputation for a highly talented cast, authentic and traditional productions, and a clarity of diction vital to Gilbert and Sullivan's brand of musical comedy.

Gilbert and Sullivan premiered The Pirates of Penzance in New York, rather than in their native London, to prevent the unprofitable, unofficial productions which had plagued their last success, H.M.S. Pinafore. However, Sullivan left the score for the first Act in England, and, unable to wait for its arrival, had to rewrite the opening scenes. In doing so, he borrowed heavily from their first collaborative effort, Thespis.

Please join us as Director Richard Sheldon discusses this great musical comedy with members of the cast performing pieces of Pirates. The OPERA A LA CARTE will stage The Pirates of Penzance on Saturday, October 9 at Bridges Auditorium.