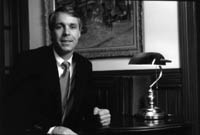 The History of Nazi Art Looting: Tracking Works Still Missing
JONATHAN PETROPOULOS
THURSDAY, SEPTEMBER 30, 1999
Nazi art looting has been the subject of enormous international attention in recent years and the topic of two bestselling historical accounts, The Lost Museum: The Nazi Conspiracy to Steal the World's Greatest Works of Art (1997) and The Rape of Europa: The Fate of Europe's Treasures in the Third Reich and the Second World War (1994) by Hector Feliciano and Lynn Nicholas, respectively. Such books leave us wondering what made thoughtful, educated, artistic men and women decide to put their talents in the service of a brutal and inhuman regime? This question is the starting point for The Faustian Bargain: the Art World of Nazi Germany, Jonathan Petropoulos's forthcoming study of the key figures in the art world of Nazi Germany.

Petropoulos is the newest Associate Professor of History at Claremont McKenna College and serves as research director for art and cultural property for the Presidential Advisory Commission on Holocaust Assets in the United States. He helped stage a 1992 traveling exhibition entitled Degenerate Art: The Fate of the Avant-Garde in Nazi Germany, and authored Art as Politics in the Third Reich (1996). He routinely acts as a consultant for documentary film and television programs. This semester he is teaching the freshmen honors seminar on World War II and a course on the culture and society of Weimar and Nazi Germany.

Petropoulos has explored the lives of those prominent individuals who, like Faust, that German archetype, chose to pursue artistic ends through collaboration with diabolical forces. Many of these figures even managed to rehabilitate their careers and live comfortably after the war. This postwar rehabilitation is a key to the fate of many looted artworks that have never been recovered or restituted. Petropoulos has discovered a network that flourished in the postwar period-one comprised of prominent members of the Nazi art world. Tens of thousands of looted artworks are still missing today. Professor Petropoulos's talk will focus on the history of Nazi art looting and the current disposition of lost works. His new book, The Faustian Bargain: the Art World in Nazi Germany, will be available from Oxford University Press in January.

Please join us as we explore the ongoing cultural ramifications of World War II and the impact of Nazi Germany on the art world.