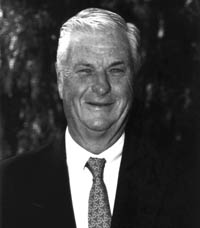 Entrepreneurship: Art or Science? The Cobra Golf Story
GARY BISZANTZ '56
MONDAY, OCTOBER 4, 1999
Gary Biszantz is a model CMC entrepreneur, philanthropist, and leader. While attending Claremont Men's College, he was an outstanding athlete, serving as captain of the golf team and all-conference guard on the basketball team. Biszantz graduated with a degree in business administration in 1956 and went to work for his father's auto dealership. In 1969 he founded his own dealership, El Rancho Ford, and ran it successfully until the mid-eighties, when he sold it to focus on the expansion of Cobra Golf, a small golf club manufacturing company which he co-owned.

Biszantz was one of the principle founders of Cobra Golf in 1978 and was the driving force behind its ascension to second-largest manufacturer of premium oversized golf clubs. In 1991 he received San Diego's Entrepreneur of the Year award and was featured in Lee T. Silber's Successful San Diegans. Biszantz sold Cobra Golf to American Brands in 1996, devoting himself to his philanthropic work and his racing stable.

Since 1992, Biszantz's thoroughbreds have won 231 races and finished in the money 55% of the time. He has had winners at Los Alamitos and Santa Anita and ran a horse in the Kentucky Derby last year. Committed to improving the sport of horse racing, Biszantz serves on the Executive Committee and the Graded Stakes Committee of the Thoroughbred Owners and Breeders Association (TOBA).

Biszantz's philanthropic record is as impressive as his entrepreneurial success. He is an active participant in the Biszantz charitable foundation, which primarily supports schools and community organizations.