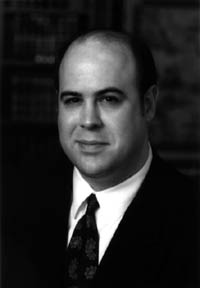 The Politics of a National Missile Defense
BRIAN KENNEDY '86
WEDNESDAY, OCTOBER 6, 1999 12:15 p.m.
Brian Kennedy will discuss the politics of building a national missile defense in a luncheon cosponsored by the Keck Center for International and Strategic Studies. Most Americans believe that the United States built a missile defense years ago with President Reagan's Strategic Defense Initiative. Kennedy argues that United States is not capable of stopping a single missile.

For the past two years Kennedy has directed a project at the Claremont Institute to assess the ballistic missile threat to the United States. During this time he has conducted briefings for state legislators and members of Congress on the growing strategic threat to the United States.

Kennedy is an alumnus of CMC with degrees in political science and history. Kennedy has been vice president of the Claremont Institute since 1989 and has served as the director of their Golden State Center for Policy Studies in Sacramento since 1996. He is a political scientist whose expertise includes California public policy and national security issues.

Lunch will be served at 11:45 a.m. The lecture will begin at 12:15 p.m.