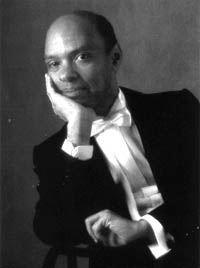 An Evening of Classical Piano
WILLIAM GRANT NABORÉ
WEDNESDAY, OCTOBER 6, 1999
American-born pianist William Grant Naboré was already an accomplished pianist at the age of ten. Born to schoolteachers who shared a passion for classical music, he grew up in an atmosphere that nourished his talents. At 17 the Italian Government awarded Naboré a scholarship to study in Rome at the Academia di Santa Cecilia with Carlo Zecchi.

Naboré received the Diploma di Perfezionamento from the Academia in 1963 and the "Paderewski" from the Conservatoire de Geneve in 1966. He continued to study piano under such great teachers as Renata Borgatti and Alicia de Larrocha.

Naboré has played in concerts all over the world with ensembles such as the Amadeus Quartet, the Talich Quartet, and the Gabrieli Quartet of London. An accomplished performer, Naboré is also a skilled teacher of his instrument and serves as the director of the International Piano Foundation. He has recorded for the ECK Accord, Diem, and Doron record labels.

William Naboré will be performing pieces by Rameau, Schubert, Granados, Chopin, and Scriabin. This recital is the first program in the Stotsenberg Chamber Music series, made possible by a generous gift from Ed and Dorothy Stotsenberg, friends of CMC.