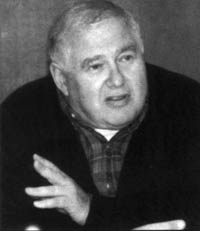 A Revolution in Congress
NELSON POLSBY
TUESDAY, OCTOBER 12, 1999
What Do We Know About Presidential Elections?
WEDNESDAY, OCTOBER 13, 1999 12:15 p.m.
Nelson W. Polsby, a leading authority on the United States Presidency and Congress, comes to Claremont as part of the Podlich Distinguished Visitors Program, hosted this year by the CMC government department. In his first lecture, "A Revolution In Congress," Polsby will examine recent trends in Congress by asking: "Where did Newt Gingrich come from? Where has he gone?" In his second lecture, "What Do We Know About Presidential Elections?", Polsby will summarize his four-decade, in-depth study of presidential elections.

Polsby is Heller Professor of Political Science at the University of California, Berkeley, where he has taught American politics and government since 1967. From 1988-99 he served as director of the Institute for Governmental Studies at Berkeley. He earned his B.A. at Johns Hopkins, his M.A. at Brown, and his Ph.D. at Yale. Polsby is editor of the Annual Review of Political Science, political science editor of The International Encyclopedia of Social and Behavioral Sciences, former managing editor of the American Political Science Review, and currently serves on editorial boards of four scholarly journals. Having written or edited eighteen books, his works include Congress and the Presidency (4th ed., 1986), Political Innovation in America (1984), The Consequences of Party Reform (1983), Presidential Elections (9th ed., 1996), and The New Federalist Papers (1997).