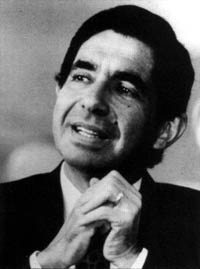 Moral Leadership in the Age of Globalization
OSCAR ARIAS
THURSDAY, OCTOBER 21, 1999
4:00 p.m. McKENNA AUDITORIUM
A prerequisite for lasting peace is the realization of democratic ideals, with freedom and equality for all. Oscar Arias is a strong spokesman for those ideals. The importance of his work for peace will extend beyond Central America.

-The Nobel Prize Committee

Dr. Oscar Arias was president of Costa Rica from 1986 to 1990 and won the 1987 Nobel Peace Prize. He was the driving force behind the Esquipulas II Accords, which resulted in the Agreement to Establish a Firm and Lasting Peace in Central America. He remains a strong force for peace in the world.

Oscar Arias was born in 1940 in Heredia, Costa Rica. After a short stint at Boston University, he completed his undergraduate study in law and economics at the University of Costa Rica. He was politically active as a student, working for the National Liberation Party (NLP). He completed his graduate work in England at the University of Essex and the London School of Economics. A professor at his undergraduate alma mater, he was appointed the Costa Rican Minister of Planning and Economic Policy in 1972. In 1978 Arias won election to the Costa Rican Congress and he became Secretary General of the NLP in 1981. He won the presidential election in 1986 by 6.5% of the vote.

President Elect Arias did not wait for his inauguration to begin the process of bringing peace to Cold War-torn Central America and in August 1987 the presidents of Guatemala, El Salvador, Honduras, and Nicaragua joined him in signing the "Arias Peace Plan." The agreement stressed democratic government, political freedom, the rejection of outside interference in internal difficulties, freedom of the press, and the refusal to negotiate with armed groups. It was the vital first step in bringing peace to the region.

Dr. Arias was awarded the Nobel Peace Prize later that year and used the monetary award to establish the Arias Foundation for Peace and Human Progress. The foundation focuses on issues of gender equality, civil participation, and demilitarization. Last May Dr. Arias, along with seven other Nobel Laureates and a number of international organizations, proposed an International Code of Conduct on Arms Transfers. This agreement would prevent arms-exporting nations from selling weapons to repressive or aggressive countries.

Dr. Arias will address the topic "Moral Leadership in the Age of Globalization" in honor of the inauguration of CMC President Pamela Brooks Gann.