Athenaeum Location
Print Newsletter
October 25, 1999
Vol. 15, No. 04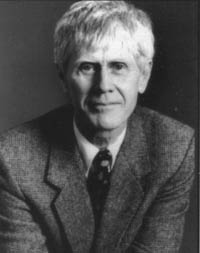 China and Tibet: An Uneasy Relationship
ORVILLE SCHELL
MONDAY, OCTOBER 25, 1999
Orville Schell is a road warrior. While he is best known for his freelance journalism on Asia, he has traveled across the globe, working as a war correspondent, a commentator on ABC, CBS, and NBC, a board member of Human Rights Watch, and a rancher, raising chemically-free beef.
Schell began his freelance journalism career over thirty years ago, while working on a South Seas freighter in the 1960s. After working for a number of papers and magazines, including the Boston Globe, Schell began a regular column with The New Yorker, covering events in China. China had always fascinated Schell, and it was to become his subject of expertise in the world media. Schell produced Emmy Award-winning editions of 60 Minutes on the subject of China's economy and human rights issues. He became a regular commentator on China for ABC, NBC, and CBS, and created documentaries on developments in China for PBS's Frontline.
In between his travels, Professor Schell has found the time to write fourteen books, including Discos and Democracy: China in the Throes of Reform (1988), and Watch Out for Foreign Guests!: China Encounters the West (1980). He currently serves as the Dean of the Graduate School of Journalism at UC Berkeley. After living the life of a freelance writer, Schell now sees an opportunity at Berkeley to help students learn "what writing with integrity really is" and has dedicated himself to imparting the experience of a battle-worn veteran and the skill of an acute observer of the world to a new generation of journalists. To accomplish his task, Schell need only lead by example, as his writing is noble, fair, objective, and engaged. A journalist who is both instinctual and intelligent, Schell embodies the goals of his profession.
Orville Schell comes to the Athenaeum to discuss the tenuous peace that has been established between China and Tibet. Will these two very different cultures ever reconcile their differences while under Chinese rule? Schell will offer his opinions based on his firsthand experiences in China and Tibet, and over 30 years of experience writing on China's social and economic policy.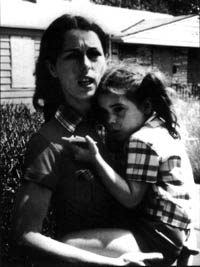 Lessons Learned From Love Canal Applied to the 21st Century
LOIS GIBBS
WEDNESDAY, OCTOBER 27, 1999 12:15 p.m.
In the spring of 1978 in Love Canal New York, a young housewife named Lois Gibbs began to worry when her son started to exhibit chronic stomach problems. After checking with doctors and consulting with her neighbors to no avail, Lois Gibbs discovered that the elementary school her son was attending had been built on top of a 20,000 ton toxic waste dump. Fearing for the health and safety of her child and the other children of the community, Gibbs organized her neighbors into the Love Canal Homeowners Association, and began her battle for the condemning of the school and the relocation of nine hundred families. The Homeowners Association clashed with the chemical company who had created the dump and sold the land to the school, as well as with local and state officials. These groups insisted that the toxic chemicals underneath Love Canal had nothing to do with the town's inordinately high rate of cancer, birth defects, and miscarriages. The fight for relocation lasted over two years, but in 1981 Gibbs and her homeowner society were given relief when President Jimmy Carter signed an emergency declaration which moved the nine hundred families out of Love Canal. With this struggle and its successful resolution, Lois Gibbs proved that grassroots activism is a powerful weapon for reform.
Though only a high school graduate, Lois Gibbs educated herself about the biochemistry of toxic materials, and became a self-trained leader and organizer. In 1981, Gibbs created the Center for Health, Environment, and justice, a nonprofit organization which has assisted over 8,000 grassroots activist groups with organizational strategy, technical advice, and lobbying support.
Gibbs is the author of Dying From Dioxin (1995) and Love Canal: The Story Continues (1998) and is the subject of a CBS Prime Time Movie "Lois Gibbs: The Love Canal Story" (1982). Gibbs has dedicated her life to fighting for environmental justice and serves as a model for what a single concerned citizen can achieve through grassroots political action.
This luncheon address' is sponsored by the Roberts Environmental Center as part of the series Environmental Activism.
Lunch will be served at 11:45 a.m. Lois Gibbs will speak at 12:15 p.m.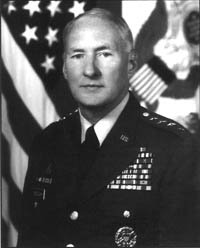 A NATO Commander's Perspective on the Balkans
WILLIAM CROUCH '63
WEDNESDAY, OCTOBER 27, 1999
Four-Star General (Retired) and CMC alumnus William Crouch joined the United States Army in 1963 and rose through the ranks to become the Vice Chief of Staff, the Army's second highest post. He began his thirty-six year career as a cavalry platoon leader in the 5th Infantry Division and subsequently commanded at every level from company through army. Most notably, he served as Commanding General of Eighth Army, Korea/Chief of Staff, United Nations Command/Combined Forces Command and U.S. Forces Korea; Commander and Chief, U.S. Army Europe; and Commander, Allied Land Forces, Central Europe, and NATO Peace Implementation Force (Bosnia). In the latter position, he commanded over 60,000 troops in the implementation of the Dayton Accords. General Crouch is a recipient of the Distinguished Service Medal, the Defense Distinguished Service Medal, the Silver Star, the Bronze Star, and the Legion of Merit. Crouch, a native of Southern California, graduated from Claremont McKenna College in 1963. In addition to graduating from the Army War College and the U.S. Army Command and General Staff College, he holds a master's degree in history from Texas Christian University. His wife and two daughters attended Scripps College. In his Athenaeum address General Crouch will discuss the peace keeping operations in the Balkans from a military perspective.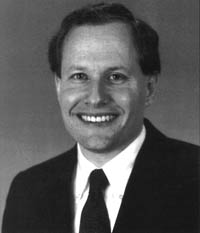 Liberalism, Conservatism, and the 2000 Election
WILLIAM KRISTOL
THURSDAY, OCTOBER 28, 1999 12:15 p.m.
No person is more qualified to discuss liberalism, conservatism and the political future than William Kristol. One of America's leading political analysts, he is the editor and publisher of
The Weekly Standard
, a national conservative political magazine. Kristol has appeared on
Good Morning America, This Week
, and
The News Hour with Jim Lehrer
to discuss American politics and conservative ideas.
Prior to editing The Weekly Standard, Kristol directed the Bradley Project on the 90s, a Bradley Foundation program to survey America's social, economic and cultural landscape during the past decade. He also chaired the Project for a Republican Future where he played a key role in the defeat of Clinton's health care plan and in the 1994 Republican Revolution.
Kristol served as Chief of Staff to Vice President Quayle during the Bush administration and to Cabinet Secretary William Bennett from 1985 to 1988. Prior to serving in the Executive Branch, Kristol was Assistant Professor of Public Policy at the Kennedy School of Government at Harvard, where he had received his A.B. and Ph.D. degrees. Kristol currently serves on the Henry Salvatori Center's Board of Directors. He joins us for a lunch, cosponsored by the Salvatori Center, to discuss liberalism, conservatism, and the 2000 elections.
The Nature of Nationalism in the Modern World
LIAH GREENFELD
THURSDAY, OCTOBER 28, 1999
Professor Liah Greenfeld is an expert on the phenomenon of nationalism. She has held appointments as the John L. Loeb Associate Professor of Social Science at Harvard University, visiting professor at the École des Hautes Ludes en Sciences Sociales in Paris, and visiting associate professor in political science at MIT. At each of these institutions, Professor Greenfeld taught courses relating to the role of nationalism in shaping society, defining cultural identity, and in some cases providing the source and the justification for ethnic conflict. Greenfeld now teaches Political Science and Sociology at Boston University, where she focuses on the sociology of Russian and East European cultures and societies, as well as the cultural foundations of modernity on a world level. Greenfeld approaches the subject of ethnic conflict as a potential consequence of nationalism, and traces its roots to a culture's affinity for a nationalist state.
Professor Greenfeld has been the recipient of many research awards, including a Mellon Fellowship in 1984, and a John M. Olin Research Fellowship in 1987. A prolific writer, Dr. Greenfeld's books include Center: Ideas and Institutions (1989), Different Worlds: A Study in the Sociology of Taste, Choice, and Success in Art (1989), and Nationalism: Five Roads to Modernity (1992). Dr. Greenfeld is currently studying national identity and political change in Russia, as well as a comparative analysis on the economic implications of nationalism. Greenfeld will be joining us at the Athenaeum to discuss the effect of nationalism on ethnic conflict as part of the series Ethnic Conflict in the Modern World cosponsored by the Keck Center for International and Strategic Studies.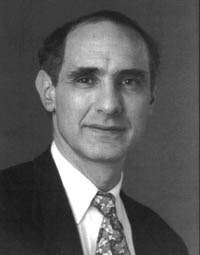 The Apocalyptic Curve: Anatomy of a Millennial Moment
RICHARD LANDES
MONDAY, NOVEMBER 1, 1999
Trained as a medieval historian, Richard Landes has devoted considerable attention to popular behavior at the turn of millennial dates. His book, Relics, Apocalypse, and the Deceits of History: Ademar of Chabannes, 989-1034 (1995), examined a monk-historian who lived in the millennial generation Of 1000-1033. He also coedited The Peace of God: Social Violence and Religious Response in France around the Year 1000 (1992). Over the past 25 years, Landes has been paying attention to contemporary millennial manifestations and offers a unique historical perspective for understanding current apocalyptic and millennial phenomena in light of past moments. In 1994 Landes and Stephen O'Leary first conceived of the Center for Millennia] Studies (CMS), which the two now codirect. Based at Boston University, the Center is the world's largest academic research center dedicated to millennial studies. Through its publications, conferences, and cadre of academics and independent researchers, CMS provides an important link among wide-ranging disciplines and the growing popular interest in millennial and apocalyptic activities. Richard Landes's appearance marks the final talk in the Gould Lecture Series on the theme of Messiahs and the Millennium.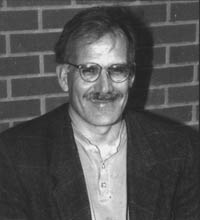 The Countryside and Civilization, Ancient and Modern
VICTOR DAVIS HANSON
TUESDAY, NOVEMBER 2, 1999
Victor Davis Hanson has created a revolution in our understanding of the impact of ancient Greece on western civilization. In
The Other Greeks: The Family Farm and the Agrarian Roots of Western Civilization
(1995) shows that the real "Greek revolution" was not the rise of a free and democratic urban culture but the historic innovation of the independent family farm. Hanson's ancient heroes, the "other Greeks," are the neglected freehold farmers, vinegrowers and herdsmen of ancient Greece who formed the backbone of Hellenic civilization. These practical and fiercely independent agrarians gave Greek culture its emphasis on private property, constitutional government, contractual agreements, infantry warfare, and individual rights.
Donald Kagan of Yale University has called The Other Greeks the most original and important contribution to an understanding of the ancient Greeks I have ever read." In addition to being a classical scholar and historian (he is Professor of Greek at California State University, Fresno), Hanson is also a fifth-generation California vine and fruit grower. He has written powerfully on the implications of the imminent extinction of the family farm. His other books include Warfare and Agriculture in Classical Greece (1983) and The Western Way of War: Infantry Battle in Classical Greece (1989).
Professor Hanson's lecture is the first of three this year on the theme of Ancient Greece and Modernity: Australian poet Les Murray (Fredy Neptune) and translator Robert Fagles (The Iliad, The Odyssey, The Theban Plays) of Princeton University will be speaking this spring. Please join us for a talk by one of the world's most provocative and vital classical scholars.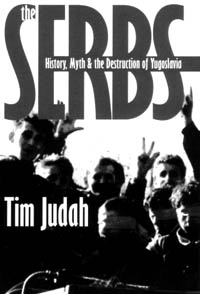 The Serbs: History, Myth, and the Destruction of Yugoslavia
TIM JUDAH
WEDNESDAY, NOVEMBER 3, 1999
British journalist Tim Judah lived in Belgrade during the Croatian and Bosnian wars. For five years he witnessed the destruction of Yugoslavia firsthand while reporting for The Times of London and The Economist. He witnessed the atrocities, and is well acquainted with the attitudes of the former Yugoslavians toward those atrocities. When the war in Kosovo broke-out, he traveled to Macedonia where he met with and interviewed the notable Kosovo Albanians who fled to escape certain execution. He stood at the boarder and recorded the stories of separation, evacuation, and murder. However, Judah's writings do not simply reiterate those stories. He knows that the Balkan conflicts are deeply rooted in the history of Yugoslavia, Serbia, and the Ottoman Empire. He describes the history behind the nationalism which fuels the fighting. Tim Judah's joint approach, combining excellent firsthand knowledge with a well-researched, scholarly history, provides meaningful insight into the source of the conflict. His prophetic 1997 book, The Serbs: History, Myth, and the Destruction of Yugoslavia, warned of an approaching war in Kosovo. Please join us as he discusses the History, Myth & the Destruction of Yugoslavia. This lecture is jointly sponsored by the Keck Center for International and Strategic Studies.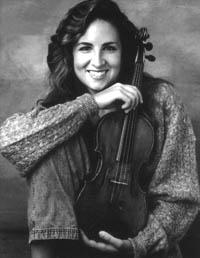 Violin Recital
DEBORAH BUCK, violin
ERIC CHARNOSKY, piano
THURSDAY, NOVEMBER 4, 1999
Deborah Buck plays with a surpassing degree of imagination and a vibrant sound.
-The Strad
Violinist Deborah Buck has toured throughout the United States and Europe, sharing her exquisite talent with music lovers everywhere. She performs the most difficult pieces flawlessly, combining a crisp style with the vigor of youth. Nine years after she began studying the violin, she was awarded a scholarship to the prestigious Julliard School, where she studied under Dorothy DeLay. In 1995, she earned her Master's degree from the University of Southern California. There she studied under Robert Lipsett and received the 1995 Jascha Heifetz Violin Prize. Buck has performed at Lincoln Center, Paul Hall, and the Los Angeles County Museum of Art. She has played with the La Jolla Symphony, the St. Matthew's Chamber Orchestra, and the Aspen Concert Orchestra. Her recitals have been broadcast on television and radio, and she has won numerous competitions including the 1996 National Contemporary Record Society Competition.
Please join us as Deborah Buck performs music by Brahams, Debussy, and Poulenc. This concert is the second program in the Stotsenberg Chamber Music Series, made possible through the generosity of Ed and Dorothy Stotsenberg, friends of Claremont McKenna College.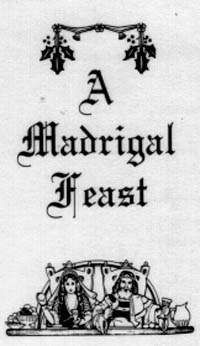 REMINDER!
Reservations for the Seventeenth Annual Madrigal Feast continue on a first-come, first-served basis. Join us for fun, food, music, and merriment! Please remember that payment must be included with your reservation.
UPCOMING EVENTS
Monday, November 8, 1999
Barbara Dafoe Whitehead, National Marriage Project, Rutgers University, "Marriage and Children: Looking at the Data"
Tuesday, November 9, 1999
Loren Finkelstein, director, Free the Planet!, "Environmental Activism"
Wednesday, November 10, 1999
Thomas Ehrlich, senior scholar, Carnegie Foundation for the Advancement of Teaching, author of forthcoming "Civic Responsibility and Higher Education" (2000)
Thursday, November 11, 1999
Ron Lehman II '68, assistant to the director, Lawrence Livermore National Laboratory, "Dealing with Russia's Nuclear Issues"
Monday, November 15, 1999
Mort Sahl, political satirist
Wednesday, November 17, 1999
California Air Resources Board, open meeting
Thursday, November 18, 1999
Walter Zelman, president and CEO, California Association of Health Plans, author of The Managed Care Blues ... and How to Cure Them (1998)
Monday, November 22, 1999 Lunch
Michael Goldstein, School of Public Health, UCLA, "The Future of Alternative Health Care"
Thursday, December 2, 1999
Friday, December 3, 1999
Saturday, December 4, 1999
Sunday, December 5, 1999
Tuesday, December 7, 1999

The Seventeenth Annual Madrigal Feast, featuring the Concert Choir of The Claremont Colleges