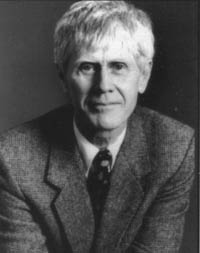 China and Tibet: An Uneasy Relationship
ORVILLE SCHELL
MONDAY, OCTOBER 25, 1999
Orville Schell is a road warrior. While he is best known for his freelance journalism on Asia, he has traveled across the globe, working as a war correspondent, a commentator on ABC, CBS, and NBC, a board member of Human Rights Watch, and a rancher, raising chemically-free beef.

Schell began his freelance journalism career over thirty years ago, while working on a South Seas freighter in the 1960s. After working for a number of papers and magazines, including the Boston Globe, Schell began a regular column with The New Yorker, covering events in China. China had always fascinated Schell, and it was to become his subject of expertise in the world media. Schell produced Emmy Award-winning editions of 60 Minutes on the subject of China's economy and human rights issues. He became a regular commentator on China for ABC, NBC, and CBS, and created documentaries on developments in China for PBS's Frontline.

In between his travels, Professor Schell has found the time to write fourteen books, including Discos and Democracy: China in the Throes of Reform (1988), and Watch Out for Foreign Guests!: China Encounters the West (1980). He currently serves as the Dean of the Graduate School of Journalism at UC Berkeley. After living the life of a freelance writer, Schell now sees an opportunity at Berkeley to help students learn "what writing with integrity really is" and has dedicated himself to imparting the experience of a battle-worn veteran and the skill of an acute observer of the world to a new generation of journalists. To accomplish his task, Schell need only lead by example, as his writing is noble, fair, objective, and engaged. A journalist who is both instinctual and intelligent, Schell embodies the goals of his profession.

Orville Schell comes to the Athenaeum to discuss the tenuous peace that has been established between China and Tibet. Will these two very different cultures ever reconcile their differences while under Chinese rule? Schell will offer his opinions based on his firsthand experiences in China and Tibet, and over 30 years of experience writing on China's social and economic policy.