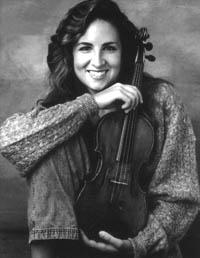 Violin Recital
DEBORAH BUCK, violin
ERIC CHARNOSKY, piano
THURSDAY, NOVEMBER 4, 1999
Deborah Buck plays with a surpassing degree of imagination and a vibrant sound.

-The Strad

Violinist Deborah Buck has toured throughout the United States and Europe, sharing her exquisite talent with music lovers everywhere. She performs the most difficult pieces flawlessly, combining a crisp style with the vigor of youth. Nine years after she began studying the violin, she was awarded a scholarship to the prestigious Julliard School, where she studied under Dorothy DeLay. In 1995, she earned her Master's degree from the University of Southern California. There she studied under Robert Lipsett and received the 1995 Jascha Heifetz Violin Prize. Buck has performed at Lincoln Center, Paul Hall, and the Los Angeles County Museum of Art. She has played with the La Jolla Symphony, the St. Matthew's Chamber Orchestra, and the Aspen Concert Orchestra. Her recitals have been broadcast on television and radio, and she has won numerous competitions including the 1996 National Contemporary Record Society Competition.

Please join us as Deborah Buck performs music by Brahams, Debussy, and Poulenc. This concert is the second program in the Stotsenberg Chamber Music Series, made possible through the generosity of Ed and Dorothy Stotsenberg, friends of Claremont McKenna College.