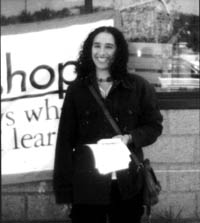 Are We Headed For a Green Millennium?
LOREN FINKELSTEIN
TUESDAY, NOVEMBER 9, 1999
More than 2500 students from across the United States gathered recently at the University of Pennsylvania to spend a weekend participating in workshops designed to help them become effective campus organizers. They attended panel discussions on subjects such as corporate organization, market subsidies, and the effects of the World Trade Organization. They organized into regional caucuses to discuss region specific issues, listened to lectures on shareholder power, global equity, the power of the media and learned everything from how to work with the media to drafting environmental legislation. Ecoconference 2000 brought together environmental activists to help focus their strategy in making the coming century a "green" millennium. The success of this conference is indicative of a new environmentalist movement peopled by activists like Loren Finkelstein, the program director of Free The Planet!, a predominately student-oriented environmental group that focuses on empowering the next generation of environmental leaders in hope of revitalizing the political core of the environmental movement. In the six years that Free the Planet! has existed, it has grown exponentially, with chapters currently maintained at close to 200 schools across the country.

Please join Loren Finkelstein as she discusses the future of the environmental movement in the twenty-first century.