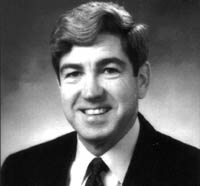 Science Cooperation, International Security, and Weapons of Mass Destruction in the Former Soviet Union
RONALD LEHMAN II '68
THURSDAY, NOVEMBER 11, 1999
Throughout the Cold War the Soviet Union maintained a massive infrastructure of scientific institutes and manufacturing facilities to support its arsenals of nuclear and chemical weapons. In addition, a large offensive biological warfare program continued in violation of the 1972 Biological Weapons Convention.

The breakup of the Soviet Union, with the subsequent political turmoil and economic chaos, has created new dangers. Weapons might be lost, stolen, or sold to other governments or terrorists, along with the knowledge of how to make these weapons more lethal. The United States, Japan, the European Union and others have developed numerous programs to prevent the spread of technology and material from the former Soviet Union. Understanding the risks and benefits of such programs helps us understand more clearly the international security implications of the broader globalization of science.

Ronald F. Lehman is the director of the Center for Global Security Research (CGSR) at the Department of Energy's Lawrence Livermore National Laboratory (LLNL) and also is chairman of the governing board of the International Science and Technology Center (ISTC), an intergovernmental organization headquartered in Moscow. He has served three Presidents, four Secretaries of State, four Secretaries of Defense, and three National Security Advisors in senior executive and advisory positions. From 1989 to 1993 he was the director of the U.S. Arms Control and Disarmament Agency. Lehman is also chairman of the board of governors of the Keck Center for International and Strategic Studies at CMC. Lehman's appearance at the Athenaeum is second in the Keck Center's lecture series on nuclear issues.