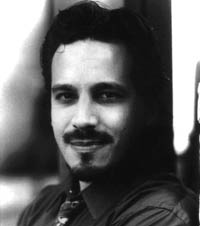 Border Ballad
RUBEN MARTINEZ
TUESDAY, NOVEMBER 16, 1999
Ruben Martinez is an Emmy Award-winning journalist, poet, and performer, and an associate editor at Pacific News Service. His published collection of essays and poetry, The Other Side: Fault Lines, Guerrila Saints, and the True Heart of Rock'N'Roll (1992), won widespread critical acclaim, and he has been a guest commentator on NPR's All Things Considered.

Martinez has performed throughout the United States, Britain, and Latin America, combining music and spoken word poetry into powerful messages. He will be performing his new one-man spoken word/musical, Border Ballad, at the Athenaeum. In this piece Martinez tells the story of Latino immigrant and migrant workers using fascinating anecdotes and bicultural music. He tells "the tales of the New Frontier, which gave rise to a new border mythology ... one in which both 'foreigner' and 'native' are transformed." His character, described as "equal parts of Johnny Cash and Los Tigres del Norte," is a composite formed of a profusion of illegal immigrant experiences and stories. In the eye of his character Mexican ballads will become blues, and blues will become nortenas.

Martinez lectures for Chicano Studies at UC Santa Barbara and he delivered an address at the Gould Center for the Humanities Seminar at CMC. In addition to the Emmy, he received a Freedom of Information Award from the ACLU and the Greater Los Angeles Press Club Award of Excellence for coverage of the Rodney King beating investigation and its aftermath.

Martinez will be teaching a course on literary journalism at CMC spring semester. Please join us as this accomplished journalist and artist performs his latest most interesting work.