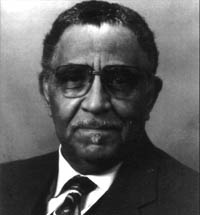 The Challenges of Equality in the 21st Century
JOSEPH LOWERY
TUESDAY, JANUARY 25, 2000
Reverend Joseph Lowery has been an instrumental member of the struggle racial equality for over forty years. In 1957, Lowery cofounded the Southern Christian Leadership Conference (SCLC) with Dr. Martin Luther King Jr. helping to create and refine one of the most visible and effective organizations addressing civil rights issues. After serving as the Vice President of the organization for twenty years, Lowery succeeded to the position of President in 1977. At the time Lowery took over the organization, SCLC's membership had dwindled from over 11,000 to only 400, and the organization had run into a considerable amount of debt. Under Lowery's guidance, the SCLC refocused its mission, and returned to prominence as a powerful forum for addressing the political, social, and economic concerns of the African American community.

Joseph Lowery's accomplishments through the SCLC include extending the Voter Rights Act, increasing awareness of the threat of AIDS to the African-American community, and challenging urban youth to assume responsibility in their communities.

He has also served as a spiritual guide in the community of Mobile, Alabama for over forty years. Lowery was a founder of the Black Leadership Forum and served as a leader in the Coordinating Council of Black Farm Groups, helping to win justice for farmers who lost their land due to the discriminatory politics of the U.S. Department of Agriculture. Since leaving SCLC in 1997, Lowery has established himself as one of the nation's leading advocates for affirmative action.

The 13th annual Athenaeum lecture commemorating the birthday of Dr. Martin Luther King Jr. is cosponsored by the Kravis Leadership Institute as part of the series Grass Roots Leadership.