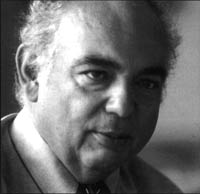 The Importance of Politics in a Democratic Society
ERNESTO CORTES, JR.
WEDNESDAY, JANUARY 26, 2000
Ernesto Cortes might be called the Johnny Appleseed of community organizing in America. Since 1972, when he joined the Industrial Areas Foundation (IAF), a nonprofit organization founded in Depression-era Chicago by Saul Alinsky, Cortes has been planting the seeds of revitalized local democracy in poor and moderate income communities from his native San Antonio to Los Angeles, Texas to Nebraska, Arizona to Iowa.

Today Cortes directs the Southwest IAF Network, whose 23 mostly faith-based organizations have helped over 25,000 people to lead their neighbors in identifying and finding realistic, politically viable solutions to local problems. The IAF pursues job training, indigent health care, and community partnerships to improve public education. Cortes was the prime mover behind the Texas Alliance Schools Initiative.

In a political environment driven by money and media and detached from most people's lives, Cortes is committed to building organizations in which "members" are not merely names on a computerized mailing list but flesh-and-blood associates who shape the strategy of the organization and hold it accountable.

Cortes has been widely honored for his work: in addition to being a MacArthur Foundation Fellow (1984), he has served on the National Commission on Civic Renewal and the Union Theological Seminary Board of Directors and been visiting professor at M.I.T. and at the John F. Kennedy School of Government at Harvard.

It is a pleasure to have Ernesto Cortes take part in the 1999-2000 William F. Podlich Distinguished Visitors Program. This program was generously endowed by CMC alumnus and trustee William F. Podlich '66, whose aim is to enrich the college intellectually by bringing preeminent figures in scholarship, business, and public affairs to campus for extended visits. Under these auspices, the CMC government department is hosting four renowned guests, of whom Cortes is the third.