Athenaeum Location
Print Newsletter
February 7, 2000
Vol. 15, No. 07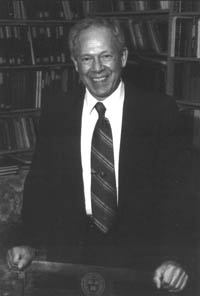 Covert Communications in Classrooms, Clinics, Courtrooms, and Corporations
ROBERT ROSENTHAL
MONDAY, FEBRUARY 7, 2000
Robert Rosenthal is one of the most influential psychologists of our time. In 1968 he published his book (with Lenore Jacobson) Pygmalion in the Classroom, which outlined his research on what has been termed the "self-fulfilling prophecy." In this classic work Rosenthal demonstrated that teachers' expectations about their students' academic abilities were subtly communicated to the students and affected the students' actual academic performance throughout the school year. Since then, Professor Rosenthal has studied the role of the self-fulfilling prophecy in doctor-patient, manager-employee, psychotherapist-patient, and in many other settings. Professor Rosenthal has also made major contributions in the areas of research methodology, quantitative methods, and in the study of nonverbal communication processes.

Rosenthal is the author or coauthor of over 300 journal articles and more than two dozen books. He has received numerous awards for his research, including the American Association for the Advancement of Science's Prize for Behavioral Science Research and the Distinguished Scientist Award of the Society of Experimental Social Psychology.

Currently Distinguished Professor at the University of California, Riverside, Rosenthal was the Edgar Pierce Professor of Psychology at Harvard University, where he taught from 1962 to 1999. Born in Giessen, Germany, Robert Rosenthal received his A.B. and Ph.D. from UCLA. He is a Fellow of the American Association for the Advancement of Science, the American Psychological Association, and the American Psychological Society.

Professor Rosenthal's lecture is jointly sponsored by CMC's Kravis Leadership Institute and the Department of Psychology.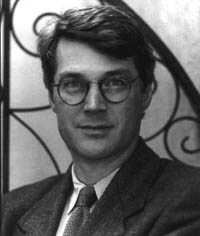 The Spread of Nuclear Weapons: A Debate
SCOTT SAGAN
TUESDAY, FEBRUARY 8, 2000
What are the likely consequences of the spread of nuclear weapons to an increasing number of states in the international system? Will nuclear proliferation lead to stable deterrence between India and Pakistan and other potential nuclear rivals, or will the risks of accidents, crises, and war increase? In his Athenaeum lecture Dr. Sagan will address these and other crucial questions about the future of global security.

Sagan will first present an explanation of which states have developed nuclear weapons and why. He will then analyze two schools of thought-nuclear optimists and proliferation pessimists. Finally, he will present emerging evidence supporting the theory that nuclear proliferation is leading to dangerous conditions in South Asia today, and in other areas of the globe in the near future.

Scott Sagan is associate professor of political science and codirector of Stanford's Center for International Security and Cooperation. Before joining the Stanford faculty, he was a lecturer in the government department at Harvard University. In recent years, Sagan has served as a consultant to the Organization of the Joint Chiefs of Staff, the Office of the Secretary of Defense, and the Los Alamos National Laboratory. He is the author of Moving Targets: Nuclear Strategy and National Security (1989), The Limits of Safety: Organizations, Accidents, and Nuclear Weapons (1993), coauthor of The Spread of Nuclear Weapons: A Debate (1995), and coeditor of Planning the Unthinkable (2000).

The Keck Center for International and Strategic Studies is pleased to sponsor this lecture by Scott Sagan.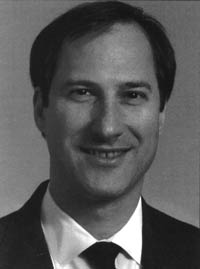 Rebuilding the IMF and the World Bank
CHARLES CALOMIRIS
WEDNESDAY, FEBRUARY 9, 2000
Professor Charles Calomiris is one of the country's leading authorities on financial institutions, and one of the leading proponents for international finance reform. Currently serving as the Paul M. Montrone Professor of Finance and Economics at the Business School of Columbia University, Calomiris focuses his research on corporate finance, banking, financial history, and monetary economics. He is also a research associate at the National Bureau of Economic Research and directs the American Enterprise Institute's project on financial regulation. He has received research grants from the National Science Foundation, the World Bank, and the Garn Institute of finance, and has published prolifically in American Economic Review, The Cato Journal, and The Journal of Economic History.

While Calomiris has established himself as an expert in a wide range of economic concentrations, his most influential work has been his strategy to reform world financial institutions, especially the World Bank and the IMF. Calomiris argues that these global financial institutions have failed to promote stable growth in developing economies and have often become inappropriately involved in the government and economy of the countries they are trying to help. Calomiris has been instrumental in our government's proposals to the IMF for reform, and presented his plan to redesign the IMF to the President's Joint Economic Committee. Under the Calomiris plan, the IMF would cease to offer subsidized, below market interest rates; would refuse to fund countries that lacked basic domestic banking standards; and would shorten the time that loans take to mature. As a consequence, the IMF would not be tied up in long-term loans and feel compelled to micromanage the economy and policy of the debtor.

Professor Calomiris joins us at the Athenaeum to offer insight into world financial institutions, and to summarize the suggested reforms for the IMF and World Bank.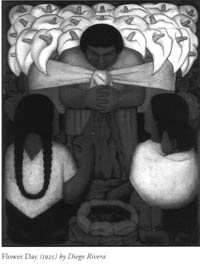 The Murals of Diego Rivera
GREGORIO LUKE
THURSDAY, FEBRUARY 1O, 2000
Turn of the century Mexican muralist Diego Rivera combined talent, artistic knowledge, and powerful symbolism into poignant paintings. And he put those paintings on buildings and streets for all to see. Rivera studied art at the San Carlos Academy and was heavily influenced by the carvings of artist Jose Guadalupe Posada. This was combined with post-modern and cubist influence from his studies in Paris. Rivera's murals capture the past with depictions of historical events and simple life. An important figure in Mexican culture, he was a close friend of both Leon Trotsky and Pablo Picasso.

In this special multimedia Athenaeum presentation Gregorio Luke, director of the Museum of Latin American Art and a renowned expert in Mexican art, will discuss Rivera's life and works with the aid of life-size projections of Rivera's paintings and murals. Gregorio Luke has served as First Secretary for the Mexican Embassy in Washington, DC, and Consul General for the Mexican Consulate in Los Angeles. He has lectured at the Library of Congress, the Smithsonian, and numerous prominent universities. In 1995 Luke received the Irving Leonard Award from the Hispanic Society of the Library of Congress.

Gregorio Luke offers Athenaeum guests a rare and wonderful opportunity to learn about these monumental works of art.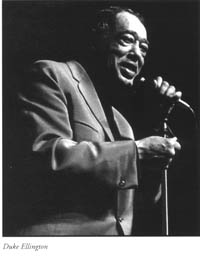 American Jazz Institute Band: A Tribute to Duke Ellington
MARK MASTERS, conductor, American Jazz Institute Band
DANNY HOUSE, woodwind
MED FLORY, woodwind
PETE CHRISTLIEB, woodwind
JERRY PINTER, woodwind
BILL PERKINS, woodwind
CARL SAUNDERS, trumpet
SCOTT ENGLEBRIGHT, trumpet
RON STOUT, trumpet
KYE PALMER, trumpet
ANDY MARTIN, trombone
DAVE WOODLEY, trombone
BOB ENEVOLDSEN, valve trombone
MILCHO LEVIEV, piano
JOHN LEITHAM, bass
JOE LABARBERA, drums
MONDAY, FEBRUARY 14, 2000
The Athenaeum will be filled with jazz as we celebrate the musical brilliance of legendary composer, pianist, and bandleader Duke Ellington. Edward Kennedy Ellington was born in Washington, DC, in 1899. He began studying keyboard at the age of seven and was strongly influenced by ragtime music. After making his professional debut at 17, his exceptional talent was soon recognized. Fats Waller encouraged him to move to New York. There Ellington's band became the house band of the famed Cotton Club and Ellington himself developed and nurtured the unique style that would bring him to the pinnacle of the jazz world. He combined classic symphonic devices, the call-and- response technique, and ternary forms to take big band jazz to new heights.

Radio brought his performances into homes and exposed new audiences to the wonders of jazz. Ellington's compositions and gifted band found success after success earning him the Presidential Medal of Freedom and the cover of Time magazine. He was also the first jazz musician to become a member of the Royal Music Academy in Stockholm and served as a major influence for other artists such as Thelonius Monk, Charles Mingus, and Bill Evans.

William Berry, who played cornet with the Ellington Band, will join the American Jazz Institute Band for this special performance at the Athenaeum.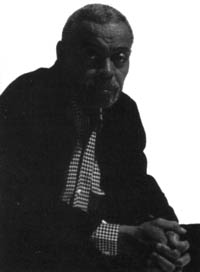 Poetry Reading
AMIRI BARAKA
TUESDAY, FEBRUARY 15, 2000
Amiri Baraka is a talented and original poet, playwright, and activist, who has had a profound influence on modern drama, verse, and artistic expression. Amin Baraka was born Leroi Jones in Newark, New Jersey, in 1934. He earned a science scholarship to Rutgers University, but soon transferred to Howard University where he studied philosophy, religion, and German, while concentrating in English literature. Two years later Baraka dropped out of college to join the Air Force. He served as a gunner on a B-36 stationed in Puerto Rico, but spent most of his military career reading. When he left the service in 1957, he moved to the lower east side and joined the New York beat poetry community. Baraka became coeditor of an avant-garde literary magazine that published works by beat poets such as Allen Ginsberg and Jack Kerouac. It was in this magazine, Yugen, that Baraka first published his own work. He also published reviews, poems, essays, and letters in numerous small magazines. In 1959 Baraka founded Totem Press. That same year he was invited to Cuba and soon after began writing social commentaries and drama. Baraka became an instant icon after the successful production of his three dramatic works The Toilet (1962), Dutch Man (1963), and The Slave (1962). He took teaching positions at Columbia University and the University of Buffalo, received numerous literary awards, and published a social history of African-American music.

In the mid-60s, caught in an era of riots, social upheaval, and change, Baraka abandoned the avant-garde community and moved to Harlem. There his writing and dramatic work became confrontational, Afro-centric, and often violent. He changed his name and opened a theater that was closed when police claimed to have found an arsenal of weapons. He reopened in Newark and was jailed during the aftermath of the Newark riots. When he emerged, he became politically active, organizing a black power conference and supporting a mayoral challenger. In the mid-70s, Baraka's writing and work took another turn when he embraced Marxism. Throughout his career, he rejected the differentiation between the object that is art and the artist. Baraka's work is both powerful and highly personal.

It is an honor for the Athenaeum to host this great American poet.
Year of the Dragon, Draco Arts Golden Dragon Team
LUNAR NEW YEAR CELEBRATION
WEDNESDAY, FEBRUARY 16, 2000
February 5th, 2000, marks the first day of the new lunar year, the beginning of a traditional two-week-long celebration in many Asian cultures. The Marian Miner Cook Athenaeum will be hosting its seventh annual dinner and program to commemorate this colorful Asian holiday.

The Chinese Zodiac marks this year as the Year of the Dragon. People born in this year are believed to take on the characteristics of their zodiac animal. Dragons are said to be honest, sensitive and sincere, and inspire trust in others. They are courageous and full of energy, and are believed to be great warriors. People born in the year of the dragon are also said to be short-tempered, excitable, and very stubborn. The zodiac advises people born in the year of the dragon to search out friends born in the year of the rat, serpent, or monkey, and to avoid the ox, hare, and other dragons.

Chefs Dave and Sid will be preparing an authentic Chinese New Year feast. The meal will be accompanied by traditional lion dance, folk dance, martial arts, acrobatics, and music performed by the Draco Arts Golden Dragon Team. Draco Arts is a community-based organization founded in 1994 to preserve and promote various performing arts of China.

Due to the popularity of this event, dinner reservations will only be available to students, faculty, and staff from CMC.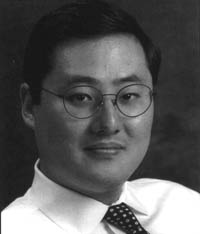 Globalism, the Constitution, and American Democracy: Why Do We Bomb Kosovo But Not Kill Sea Turtles?
JOHN YOO
THURSDAY, FEBRUARY 17, 2000
Will globalism in the 21st century render the U.S. Constitution obsolete? Discussing this pressing question is John C. Yoo, a professor of law at the University of California at Berkeley's Boalt Hall School of Law. Using Kosovo as his case study, Professor Yoo will tackle what he believes to be most significant challenge to the U.S. constitution in the 21st century: globalism. While acknowledging the legitimacy of Clinton's military intervention, Yoo rejects the proposed delegation of U.S. military to non-U.S. officers. He argues that international law and treaties should not change the traditional balance of power between the President and the Congress.

Yoo will also ask the question, "Will the U.N. replace the U.S. as the foremost international moderator?" In his discussion he will examine the historical basis for a relinquishment of U.S. sovereignty and will comment on the dangers and benefits of further delegation.

Yoo has written extensively on the widespread use of the U.S. military from the beginning of the 20th century through Kosovo. His scholarly work also covers public lawmaking, the separation of powers, foreign relations, and international law and trade. He served as a law clerk to Supreme Court Justice Clarence Thomas, and as General Counsel of the U.S. Senate Judiciary Committee. He is the recipient of several prestigious fellowships and has been invited to teach at the Free University of Amsterdam and the George Washington Law School.

Yoo's lecture is the first in the Salvatori Center's spring speaker series.
NEXT FORTNIGHTLY
Monday, February 21, 2000

Lisa Fernandez, pitcher for the 1996 Gold Medal U.S. Olympic Softball Team, "Never Be Satisfied"

Tuesday, February 22, 2000

Professor Chang Wook Chung, professor of international relations, Ajou University, Korea, and former South Korean Ambassador to China, "Chinese Foreign Policy"

Wednesday February 23, 2000

Mary Mazzio, member of the 1992 Olympic Rowing Team, "A Hero for Daisy: A Documentary" (1999)

Thursday, February 24, 2000

Mac Bledsoe, father of NFL quarterback Drew Bledsoe, "The Role of Parents and Coaches in Developing Leadership in Athletics," 12:15 p.m.

Thursday, February 24, 2000

William Kunkle Jr., attorney, Cahill, Christian and Kunkle, Chicago

Monday, February 28, 2000

Yusef Komunyakaa, Professor of the Council of the Humanities and Creative Writing, Princeton University, and Pulitzer Prize-winning poet, reads from his work

Tuesday, February 29, 2000

Art Spiegelman, Pulitzer Prize-winning cartoonist and author of Maus I: A Survivor 's Tale (1986) and Maus II (1992), "Comix 101"

Wednesday, March 1, 2000

Adam del Monte, guitar, "An Evening of Flamenco Music and Dance"

Thursday, March 2, 2000

Al From, director, Democratic Leadership Council, Washington, DC