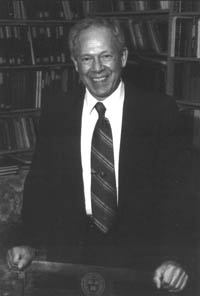 Covert Communications in Classrooms, Clinics, Courtrooms, and Corporations
ROBERT ROSENTHAL
MONDAY, FEBRUARY 7, 2000
Robert Rosenthal is one of the most influential psychologists of our time. In 1968 he published his book (with Lenore Jacobson) Pygmalion in the Classroom, which outlined his research on what has been termed the "self-fulfilling prophecy." In this classic work Rosenthal demonstrated that teachers' expectations about their students' academic abilities were subtly communicated to the students and affected the students' actual academic performance throughout the school year. Since then, Professor Rosenthal has studied the role of the self-fulfilling prophecy in doctor-patient, manager-employee, psychotherapist-patient, and in many other settings. Professor Rosenthal has also made major contributions in the areas of research methodology, quantitative methods, and in the study of nonverbal communication processes.

Rosenthal is the author or coauthor of over 300 journal articles and more than two dozen books. He has received numerous awards for his research, including the American Association for the Advancement of Science's Prize for Behavioral Science Research and the Distinguished Scientist Award of the Society of Experimental Social Psychology.

Currently Distinguished Professor at the University of California, Riverside, Rosenthal was the Edgar Pierce Professor of Psychology at Harvard University, where he taught from 1962 to 1999. Born in Giessen, Germany, Robert Rosenthal received his A.B. and Ph.D. from UCLA. He is a Fellow of the American Association for the Advancement of Science, the American Psychological Association, and the American Psychological Society.

Professor Rosenthal's lecture is jointly sponsored by CMC's Kravis Leadership Institute and the Department of Psychology.