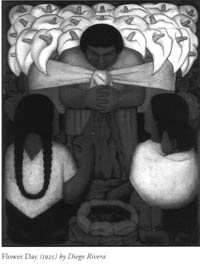 The Murals of Diego Rivera
GREGORIO LUKE
THURSDAY, FEBRUARY 1O, 2000
Turn of the century Mexican muralist Diego Rivera combined talent, artistic knowledge, and powerful symbolism into poignant paintings. And he put those paintings on buildings and streets for all to see. Rivera studied art at the San Carlos Academy and was heavily influenced by the carvings of artist Jose Guadalupe Posada. This was combined with post-modern and cubist influence from his studies in Paris. Rivera's murals capture the past with depictions of historical events and simple life. An important figure in Mexican culture, he was a close friend of both Leon Trotsky and Pablo Picasso.

In this special multimedia Athenaeum presentation Gregorio Luke, director of the Museum of Latin American Art and a renowned expert in Mexican art, will discuss Rivera's life and works with the aid of life-size projections of Rivera's paintings and murals. Gregorio Luke has served as First Secretary for the Mexican Embassy in Washington, DC, and Consul General for the Mexican Consulate in Los Angeles. He has lectured at the Library of Congress, the Smithsonian, and numerous prominent universities. In 1995 Luke received the Irving Leonard Award from the Hispanic Society of the Library of Congress.

Gregorio Luke offers Athenaeum guests a rare and wonderful opportunity to learn about these monumental works of art.