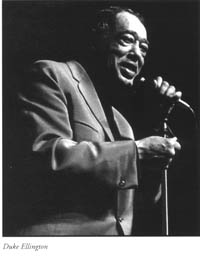 American Jazz Institute Band: A Tribute to Duke Ellington
MARK MASTERS, conductor, American Jazz Institute Band
DANNY HOUSE, woodwind
MED FLORY, woodwind
PETE CHRISTLIEB, woodwind
JERRY PINTER, woodwind
BILL PERKINS, woodwind
CARL SAUNDERS, trumpet
SCOTT ENGLEBRIGHT, trumpet
RON STOUT, trumpet
KYE PALMER, trumpet
ANDY MARTIN, trombone
DAVE WOODLEY, trombone
BOB ENEVOLDSEN, valve trombone
MILCHO LEVIEV, piano
JOHN LEITHAM, bass
JOE LABARBERA, drums
MONDAY, FEBRUARY 14, 2000
The Athenaeum will be filled with jazz as we celebrate the musical brilliance of legendary composer, pianist, and bandleader Duke Ellington. Edward Kennedy Ellington was born in Washington, DC, in 1899. He began studying keyboard at the age of seven and was strongly influenced by ragtime music. After making his professional debut at 17, his exceptional talent was soon recognized. Fats Waller encouraged him to move to New York. There Ellington's band became the house band of the famed Cotton Club and Ellington himself developed and nurtured the unique style that would bring him to the pinnacle of the jazz world. He combined classic symphonic devices, the call-and- response technique, and ternary forms to take big band jazz to new heights.

Radio brought his performances into homes and exposed new audiences to the wonders of jazz. Ellington's compositions and gifted band found success after success earning him the Presidential Medal of Freedom and the cover of Time magazine. He was also the first jazz musician to become a member of the Royal Music Academy in Stockholm and served as a major influence for other artists such as Thelonius Monk, Charles Mingus, and Bill Evans.

William Berry, who played cornet with the Ellington Band, will join the American Jazz Institute Band for this special performance at the Athenaeum.