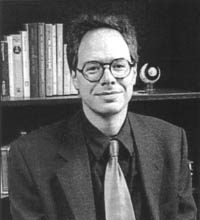 Abraham Lincoln and the American Republic
STEVEN SMITH
MONDAY, FEBRUARY 21, 2000 12:15 p.m.
President's Day is the holiday set aside to celebrate the consolidated achievements of the two greatest American presidents, George Washington and Abraham Lincoln. The Henry Salvatori Center is pleased to commemorate this occasion by presenting Professor Steven B. Smith's talk on "Abraham Lincoln and the American Republic."

Steven Smith was educated at the University of Chicago, where he studied history and political science. He is the author of several important books, including Hegel's Critique of Liberalism: Rights in Context (1989), and Spinoza: Liberalism, and the Question of Jewish Identity (1997), which was awarded the Ralph Waldo Emerson Prize in 1997. A professor of political science at Yale University, he teaches political philosophy including a course on the statesmanship of Abraham Lincoln. In 1996 he was appointed Master of Branford College at Yale.

In his luncheon address Smith will examine Abraham Lincoln's understanding of republicanism and, in particular, Lincoln's indebtedness to the moral philosophy of Immanuel Kant. Lunch will begin at 11:45 a.m. Steven Smith will speak at 12:15 p.m.

Professor Smith will present a second lecture "Spinoza and the Shape of Modern Liberty" at 4:00 p.m. in Heggblade Conference Room. Everyone is welcome to attend.