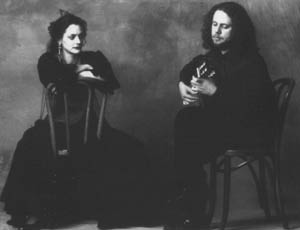 An Evening of Flamenco Music and Dance
ADAM DEL MONTE
LAILA DEL MONTE
WEDNESDAY, MARCH 1, 2000
Gypsies are often credited as the creators of flamenco, but the popular songs and dances of Andalusia, the Islamic culture, and traditional Spanish country songs and dances have also influenced this art form. Flamenco, which reached it's height of popularity in the cafe cantates (music cafes) during the mid-nineteenth century, consists of three parts, each integral to the experience: Cante, the song; Baile, the dance; and Guitarra, guitar playing.

Renowned throughout the world for their interpretation of flamenco, Adam and Laila del Monte perform in clubs, theatres and concert halls across Europe and the United States. The del Montes descend from a long lineage of Spanish ancestry, and legends of gypsy blood abound in both their backgrounds. After nearly 500 years of exile, families dispersed by the expulsion edict of Ferdinand and Isabel, both Laila and Adam returned to Spain in 1986, where they met and have since performed the flamenco as a team. The del Montes bring the art of flamenco to new levels, weaving together the centuries old music and dance traditions of the gypsies of Central and Eastern Europe with those of the ancient Sepharads. They have redefined the modern flamenco style, adding new rhythms such as 11/8 and 17/8 to the traditionally complex rhythms of 12/4 and 4/4.

The Athenaeum invites you to experience an intimate and innovative evening of flamenco song and dance with the Adam and Laila del Monte. This performance is part of the Stotsenberg Chamber Music series, made possible by a gift from Ed and Dorothy Stotsenberg, friends of Claremont McKenna College.