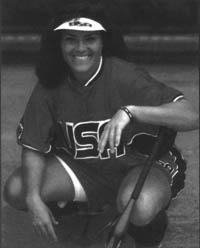 Never Be Satisfied
LISA FERNANDEZ
MONDAY, FEBRUARY 21, 2000
For the past decade, Lisa Fernandez has played an important role in female athletics. She began playing softball at age seven, and four years later, she was winning national championships.

At UCLA, she lead her team to the national championship and was awarded the 1993 NCAA Woman of the Year. As a member of the 1996 USA Olympic Softball Team, Fernandez won a gold medal. She is also a recipient of the Mana Las Primeras Award (1996), and three USA National Champion MVP awards. She was 1st Team All-America three years in a row (1996-98) and was nominated for the Woman's Sports Foundation Athlete of the Year twice (1997, 1998). In 1999 Lisa played for the Pan American Games Team, won a gold medal, and was selected for the 2000 USA Olympic Softball Team.

Fernandez's contribution to female athletics extends beyond mere participation. She has represented women athletes on national television, on product labels, and in Cosmopolitan, Sports Illustrated for Women, USA Today, and People. Her story is featured in Christina Lessa's Women Who Win: Stories of Triumph in Sport and in Life (1998). An active volunteer for the Women's Sports Foundation, Fernandez donates many hours to special appearances and clinics. She was also featured on the 1998 Girl Scouts of America nationwide sponsorship poster.

Fernandez's presentation, sponsored by the Kravis Leadership Institute, is the first event in a week-long celebration of the contribution of sports in the development of leaders.