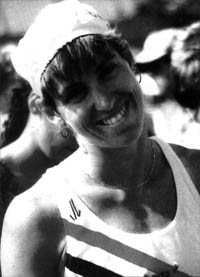 A Hero for Daisy: A Documentary
MARY MAZZIO
WEDNESDAY, FEBRUARY 23, 2000
Mary Mazzio, a Boston attorney and former Olympic rower wrote, directed, and produced A Hero for Daisy, a documentary film about leveling the playing field for women in college athletics, and championing strong female role models. Mazzio tells the story of two-time Olympian Chris Ernst., who in 1976 galvanized her rowing team to protest Yale's discriminatory policies toward women athletes. Yale had continued its discrimination against women's athletic programs four years after the Title IX Act mandated gender equity for all institutions receiving federal aid. In an act of solidarity, 19 members of the women's crew team marched into the Yale athletic director's office, stripped to the waist and exposed their chests emblazoned with the phrase "Title IX" in blue marker. The New York Times ran a cover story the next day. The event drew national media attention to the plight of women's sports at colleges across the country and earned the Yale women's crew team facilities equivalent to their male counterparts.

Mazzio has been a member of several U.S. National Teams including the 1992 Olympic Rowing Team and winner of the 1992 Boston Head of the Charles Regatta in the women's doubles. A graduate of Mount Holyoke College, Mazzio won both the Scholar-Athlete Award and the Mary Lyon Award for outstanding achievement as an undergraduate. She is the recipient of the Henry Luce Foundation Fellowship and the Rotary Foundation Graduate Fellowship. Mazzio earned her law degree at Georgetown and is currently a partner with the Boston law firm of Brown, Rudnick, Freed and Gesmer.

When asked what compelled her to make this documentary, Mazzio points to the absence of strong female role models for young girls. Mazzio hoped that by making A Hero for Daisy: A Documentary (1999), she would be preserving a pivotal moment in the struggle for women's rights, and championing the courageous acts of true heroes-the type of hero that would serve as an admirable role model for her young daughter Daisy.

Mary Mazzio's presentation of A Hero for Daisy is an integral addition to the Kravis Institute's series The Role of Parents and Coaches in Developing Leadership in Athletes.