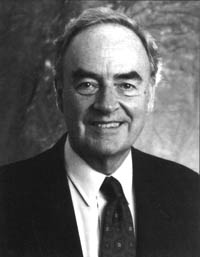 Motivating Our Youth Toward a Lifelong Commitment to Volunteerism and Service
HARRIS WOFFORD
MONDAY, MARCH 6, 2000
Harris Wofford is the CEO of the Corporation for National Service (CNS), the government body that encourages public service through the AmeriCorps, Senior Corps, and Learn and Serve programs. Wofford was involved in the civil rights movement and served as counsel to the Reverend Hesburgh of the U.S. Commission on Civil Rights during the Eisenhower administration. He also served as special assistant to President Kennedy and chaired his subcabinet group on civil rights. While in the White House, Wofford helped organize the Peace Corps; and in 1962, he became its Special Representative to Africa and the director of its Ethiopia Program. During the Johnson Administration, he served as Peace Corps Associate Director.

Wofford graduated from the University of Chicago and Yale Law School, and has served as the president of SUNY Westbury and Bryn Mawr Colleges. He is the author of several books, including Of Kennedy and Kings: Making Sense of the Sixties (1992); and served as U.S. Senator from Pennsylvania from 1991 to 1994. As Pennsylvania Secretary of Labor and Industry, he worked with several state governors to develop and promote the National Community Service Act of 1990. In 1991 Senator Wofford worked with a bipartisan group to create the National Civilian Community Corps. In 1993 he worked with fellow Senators and President Clinton to pass the National and Community Service Trust Act. This act created the CNS, which he now heads.

Please join us as this distinguished statesman talks about the importance of citizen service and the programs that encourage it.