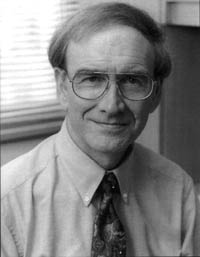 Order vs. Justice: An American Foreign Policy Dilemma
JOHN LEWIS GADDIS
TUESDAY, MARCH 7, 2000
John Lewis Gaddis, the fourth visitor in the William F. Podlich Distinguished Visitor Program this year, is one of America's foremost diplomatic historians. His numerous books and articles are lucid, thorough, and imaginative. But perhaps what distinguishes his work most is an instinct for exploring fundamental questions. Nowhere is this more evident than in his internationally acclaimed and authoritative book on containment
The American Strategy That Won the Cold War and Helped Bring About the Downfall of the Soviet Union
.
In addition to his studies of U.S.-Soviet relations and the Cold War, Gaddis has recently adopted the stance of a gadfly, prodding social scientists about their failure to anticipate the Soviet Union's collapse, and calling revisionist historians to account on the basis of the recently declassified records of the communist governments of Eastern Europe and the Soviet Union.
Gaddis is Robert A. Lovett Professor of History at Yale University. Educated at the University of Texas in Austin, he has also taught at Ohio University, the United States Naval War College, the University of Helsinki, Princeton University, and Oxford University. During the 1995/96 academic year, he was a Fellow at the Woodrow Wilson International Center for Scholars of the Smithsonian Institution in Washington D.C. His books include: The United States and the Origins of the Cold War, 1941-1947 (1972); Russia, the Soviet Union, and the United States: An Interpretive History (1978, second edition 1990); Strategies of Containment: A Critical Appraisal of Postwar American National Security Policy (1982); The Long Peace: Inquiries into the History of the Cold War (1987); The United States and the End of the Cold War: Reconsiderations, Implications, Provocations (1992); and We Now Know: Rethinking Cold War History (1997).
Gaddis is on the advisory board of the Cold War International History Project, served as a consultant on the CNN television documentary Cold War, and is currently working on a biography of George F. Kennan.