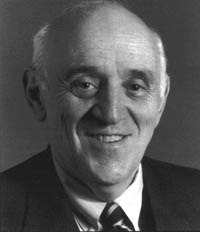 Changing Family Demographics: Economic and Public Policy Implications
BEN WATTENBERG
WEDNESDAY, MARCH 22, 2000
How is family structure changing in the U.S. and throughout the world-and what will be the wider social, political, and economic consequences? This question is addressed by Ben J. Wattenberg, senior fellow at the American Enterprise Institute in Washington, D.C.

Wattenberg is a 1955 graduate of Hobart College where he also received an honorary doctorate of law. He was an aide and speechwriter for President Lyndon B. Johnson and a campaign advisor in the 1970s to Senator Hubert Humphrey and Senator Henry "Scoop" Jackson. He was a cofounder and chairman of the Coalition for a Democratic Majority.

Wattenberg writes and lectures on a wide range of topics involving demographic and political change. An author of eight books, including Values Matter Most (1996); The Birth Dearth (1988); The First Universal Nation (1991); The Good News Is the Bad News Is Wrong (1984), he moderates the weekly PBS program Think Tank and writes a weekly newspaper column which appears in 200 papers. He coauthored The Real Majority (1970) with Richard M. Scammon, was a contributing editor to U.S. News and World Report, and a coeditor of the American Enterprise Institute's Public Opinion. He has hosted several PBS specials including Values Matter Most (1996), The Stockholder Society (1999), and The Grandparent Gap (1997). He is currently producing The First Measured Century, a six-part PBS series examining statistical trends in the United States.

Wattenberg is one of three speakers featured in conjunction with CMC's new H. N. and Frances C. Berger Institute on Work, Family, and Children.