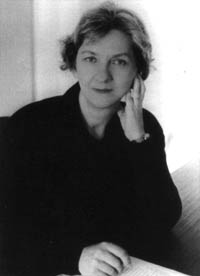 The Vanishing Arts: Reflections on Art and the Art of Teaching
JUDITH MERKLE
THURSDAY, MARCH 23, 2000
Professor Judith Merkle is a woman of two passions: teaching and fiction writing. A professor of political science, public administration, and organizational theory for over 25 years, Merkle has taught at the University of California, Berkeley, the University of Oregon, and the Claremont Graduate School. She has served as an associate professor of government at CMC for the past 18 years, teaching students about the reality behind organizational structures in both government and business.

While Merkle is dedicated to the art of teaching, she also holds a passion for both reading and writing historical fiction. As a novelist, Merkle's works focus on the lives of ingenious and independent women from periods ranging from 14th century England to the court of Louis XIV. Her novels have won both critical acclaim and an international following; she is both an international bestseller and a regular contributor to the Book-of-the-Month Club. In the words of one critic, her novels are crafted as small jewels, smooth and polished, glowing with a light all their own.

Merkle sets herself apart as both a professor and as an artist by her attention to detail and her personal involvement with her subject matter. As a professor of organizational theory, she brings experiences as an organizational consultant and researcher into the classroom, providing real-world examples and applications of organizational theories. As a writer, Merkle immerses herself in her subject matter, traveling to the historical settings of her novels, and even learning the trades of her heroines (for her novel The Serpent Garden (1996), she trained as a portrait painter). By living her subjects, Judith Merkle is able to transmit their passion into both her lectures and novels.

Merkle joins us as the first speaker in the Faculty Ideas in Progress series that allows CMC professors to share their research and academic interests with the greater Claremont Colleges community. It is a pleasure to welcome this accomplished, passionate, and artistic professor to the Athenaeum.