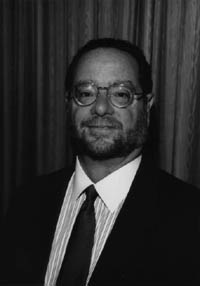 The Kravis Leadership Institute's Board of Governors Lunch
On Leadership
STANLEY GOLD
THURSDAY, MARCH 30, 2000 11:45 a.m.
Stanley P. Gold is president and chief executive officer of Shamrock Holdings. Inc., a private, diversified investment company wholly owned by the Roy Disney Family. Shamrock owns or controls numerous operating companies including Latin Communications Group, Inc. (a Spanish-language broadcaster and publisher) and Cascadian Farm and Fantastic Foods (leaders in the field of quality organic foods). Gold is also a director of the Wait Disney Company.

A native of Los Angeles, he was graduated with a B.A. in political science from UCLA, and received his J.D. from the University of Southern California Law School. before doing postgraduate work at Cambridge University in England. Gold serves on several boards including the Board of Trustees of the University of Southern California. the Board of Governors of the Hebrew Union College-Jewish Institute of Religion. the USC Law Center Board of Councilors. and the Board of Governors of CMC's Kravis Leadership Institute. As part of the Kravis Institute's spring Board of Governors meeting, Gold's talk will focus on leadership.

Introductory remarks will be made by Henry R. Kravis '67, chair of the Kravis Institute's Board of Governors, member of CMC's Board of Trustees, and founding partner of Kohlberg, Kravis, Roberts (KKR). Kravis, a leader in investment banking, is known for pioneering the leveraged buyout. KKR is responsible for some of the largest corporate acquisitions in history.

Lunch is served at 11:45 a.m. Henry Kravis will introduce Stanley Gold at 12:15 p.m.

The luncheon is open to the CMC community ONLY. All are welcome to the program.