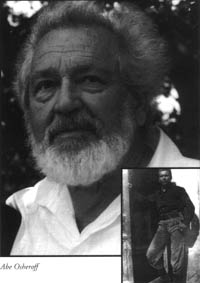 Dreams and Nightmares: A Documentary
ABE OSHEROFF
WEDNESDAY, MARCH 29, 2000
A self-described "blue-collar intellectual and radical humanist," Abe Osheroff has made human rights causes his life's work. The son of immigrants in Brooklyn, Osheroff came to political activism as a teenager during the Great Depression, helping to organize trade and student unions. In 1936, at the age of 21, he left for Spain to join the Abraham Lincoln Brigade and defend the Spanish Republic against Francisco Franco's fascist rebellion. Wounded, he returned home in 1938. When the United States entered World War II, he again volunteered for service and served in the infantry until 1945.

Osheroff, a carpenter by trade, has since been involved in a number of human rights campaigns. He worked in Mississippi's "Black Belt" during the Civil Rights movement and built houses in rural Nicaragua. Dreams and Nightmares: A Documentary (1975), which Osheroff produced and directed, is an award-winning documentary-partly historical, partly autobiographical, and partly an antiwar, anti-Franco polemic. The 1975 film recounts Osheroff's childhood during the Depression, his time fighting in the Spanish Civil War, and Spain under Franco's dictatorship.

Abe Osheroff joins us at the Athenaeum to share his film and ideas on social justice. His visit to Claremont is jointly sponsored by the Kravis Leadership Institute and the CMC history department.