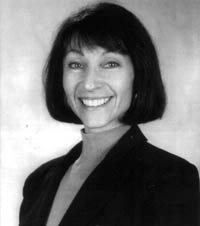 Refugees
STEPHANIE SATIE
MONDAY, APRIL 10, 2000
In her dramatic, autobiographical one-woman show Refugees (1998), Stephanie Satie, came upon the subject of her play while teaching English as a second language to refugees and immigrants. In her classes she heard "daily stories of war, deprivation, humiliation, and institutionalized sexual oppression." It was the power of these stories and the degree to which they had been repressed that compelled her to write Refugees, a narrative of recent American immigrants (Russian and Iranian Jews, Christian Armenians) as they struggle to assimilate and find a place in their new communities.

Satie won a Drama-Logue award for her performance in the West Coast premiere of Alan Brody's Invention for Fathers and Sons (1989). Her other theatre credits include Waiting for the Moon to Fall at Theatre 40 and Kvetch at the Odyssey Theatre. Stephanie played the recurring role of Ida Pfeiffer (Paul's Mom) on The Wonder Years and has appeared on Beverly Hills 90210, General Hospital, and All My Children. Her performance in Refugees was described as "120 percent passion all the way" by the Los Angeles Times and has won critical acclaim across the country and abroad, earning four stars from The Scotsman in Edinburgh.

Satie recently completed her master's degree in English at California State University, Northridge, where she still teaches. Please join us as Stephanie Satie transforms her personal classroom experience into a journey through the minds and hearts of America's newest immigrants. This performance is sponsored by the Gould Center for Humanistic Studies.