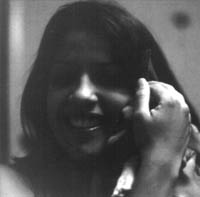 The Immaculate Conception of Virginia Manchado
CLAUDIA MARTINEZ '00
WEDNESDAY, APRIL 12, 2000
Hailing from El Paso Texas, Claudia Martinez, a member of CMC's senior class, is an aspiring poet and playwright whose second play, The Immaculate Conception of Virginia Manchado (2000), will debut at the Athenaeum.

Martinez has worked for the South Side Summer Theatre in El Paso, where she handled press, community outreach, and fundraising. More recently, through the Le Fe Clinic, she helped develop a new theater program. At CMC, she served as Editor-in-chief for The Collage. An English and Spanish literature major, the play was written for her senior thesis and will be performed by fellow students (Donesha Dennis, Sarah Hernandez, Diana Lopez, Adelina Mendoza, Alfonso Morales, Anthony Ramirez, Leticia Rodriguez, David Stahlin).

The Immaculate Conception of Virginia Manchado is a comedy in English, Spanish, and Spanglish. It centers around a young pregnant girl in a conservative border town family. Set in Texas, the play will address issues of sexuality and religion within the Chicano culture.

Please join us for this original and thought provoking play-written, directed, and produced by Claudia Martinez.