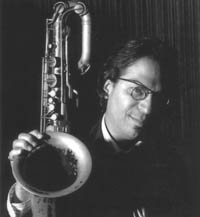 American Jazz Institute Orchestra: Jazz and Strings
GARY SMULYAN, baritone saxophone
MARK MASTERS, conductor, American Jazz Institute Orchestra
CECILIA COLEMAN, piano
PUTTER SMITH, bass
JOE LABARBERA, drums
KRISTEN AUTRY, violin
LUDVIG GIRDLAND, violin
J'ANNA JACOBY, violin
PAM JACOBSON, violin
NICOLE GARCIA, violin
TOM VOS, viola
JOHN KROVOZA, cello
SHARON RIZZO, cello
MONDAY, APRIL 17, 2000
Gary Smulyan is critically acclaimed as a major voice on the baritone saxophone today. As a teenager growing up in Long Island, he had the opportunity to perform with Chet Baker, Lee Konitz, and Jimmy Knepper.

In 1978 Smulyan was asked to join Woody Herman's Young Thundering Herd, which at that time included Joe Lovano, Marc Johnson and John Riley. He left Herman's band in 1980, moving back to New York to join the Mel Lewis Jazz Orchestra. He has performed and recorded worldwide with renowned artists such as Freddie Hubbard, Dizzy Gillepsie, Ray Charles, B.B. King, Lionel Hampton, Herbie Hancock, Wynton Marsalis, and Diana Ross.

He has recorded four CDs for the Criss Cross label: Saxophone Mosaic (1995) (voted one of the 25 best CDs of 1995 by WBGO, New York's leading FM jazz station); The Lure of Beauty (1990); Homage (1991); and Gary Smulyan with Strings (1997) (which was selected as one of the ten best CDs of 1997 by the Boston Globe). He is the winner of the 1990 Jazz Times critic's poll, the 1994 Down Beat readers' poll, and the 1998 Down Beat Critics Poll.

Smulyan currently performs with the Village Vanguard Jazz Orchestra, the Carnegie Hall Jazz Band, the Three Baritone Saxophone Band (a tribute to Gerry Mulligan), the Tom Harrell Octet, and the George Coleman Octet, as well as his own projects.

Please join us as this master saxophonist performs compositions arranged for string ensemble, rarely performed live in concert. This concert is one of a series of performances conducted by Mark Masters as part of CMC's jazz history course.