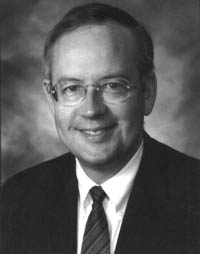 Reflections on the Independent Counsel Statute: The Ignored Wisdom of the Framers
KENNETH STARR
TUESDAY, APRIL 18, 2000
Best known for his recent role as Independent Counsel in the investigations leading to the impeachment of President Clinton, Kenneth Starr is a respected and experienced constitutional lawyer who has served in numerous positions of distinction.

Starr grew up in Texas, attending high school in San Antonio. He attended Harding University in Arkansas for two years before transferring to George Washington University. He earned his law degree from Duke University Law School and clerked for Supreme Court Chief Justice Warren Burger. In 1977 he joined the law firm of Gibson Dunn & Crutcher in Washington, DC and became an associate partner. Starr joined the Department of Justice in 1981 and served as counselor to the attorney general until 1983, when President Reagan appointed him to the U.S. Court of Appeals for the District of Columbia. He was the youngest judge ever to serve in that capacity. Starr served as solicitor general during the Bush administration, and then reentered private practice as a partner for the firm of Kirkland & Ellis.

In I993 Congress asked Starr to evaluate the diaries of Senator Bob Packwood who resigned after allegations of sexual misconduct. A year later, a special three-judge federal panel appointed him to investigate the Whitewater affair, replacing Robert Fiske. Starr's five-year, 50-million-dollar investigation was expanded numerous times and led to several indictments and the impeachment of President Clinton.

Please join us as Kenneth Starr discusses the pitfalls inherent in ignoring the separation of powers. This lecture is cosponsored by the Athenaeum and the Res Publica Society. The dinner is open to the CMC community only. All are welcome to the talk.