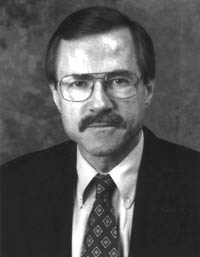 Campaign Finance Reform Is Not About Campaign Finance Reform
DARRYL WOLD '63
WEDNESDAY, APRIL 19, 2000 12:15 p.m.
With the popular but unsuccessful candidacy of longtime campaign finance reform crusader Senator John McCain, the issues of money and influence have once again captured the nation's attention. In a special lunchtime presentation, Federal Election Commission Chairman and Claremont McKenna College alumnus Darryl Wold will discuss whether the current debate about campaign reform is actually focused on reforming the regulation of campaign contributions and spending, or whether it is about regulating speech on issues and legislative programs.

Wold graduated cum laude with a degree in accounting in 1963. He earned his law degree from Stanford University Law School and is a member of the California bar. Prior to his appointment to the FEC, Wold had his own practice in Orange County, where he was a member of the Sheriffs Advisory Council, and was counsel for election law litigation for the firm of Reed and Davidson. He has represented candidates, ballot measure committees, and political action committees in state and federal trials and appellate courts.

A member of the California Political Attorneys Association, Wold was nominated to the Federal Election Commission by President Clinton in 1997. The bipartisan FEC consists of three Democrats and three Republicans appointed by the President and confirmed by the Senate. The Commissioners serve full time and are responsible for administering and enforcing the Federal Election Campaign Act. They generally meet twice a week, once in closed session to discuss matters that, by law, must remain confidential, and once in a meeting open to the public. At these meetings, they formulate policy and vote on significant legal and administrative matters.

Lunch begins at 11:45 a.m. Darryl Wold speaks at 12:15 p.m.