Athenaeum Location
Print Newsletter
September 11, 2000
Vol. 16, No. 01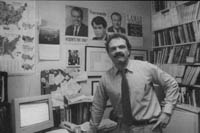 Bush, Gore, and the Art of Political Warfare
JOHN J. PITNEY, JR.
MONDAY, SEPTEMBER 11, 2000
A recent article in The Washington Post started with this passage: "While the unsuspecting Democrats rest in their beds, a group of four men in dark suits moves purposefully toward the Staples Center, site of the Democratic convention. As political warfare goes, this is a guerrilla attack: Coming down from the hills are Republican National Committee Chairman Jim Nicholson and three aides."

Other stories are full of references to strategies, tactics, offensives, retreats and blitzes. Why all the martial talk? In important ways, politics resembles warfare.

That's the theme of The Art of Political Warfare (2000), a new book by Professor John J. Pitney, Jr., from the University of Oklahoma Press. Applying military thought to domestic politics, the book persuasively argues that the writings of warriors and military analysts can teach us much about political activity.

The book discusses how military principles can explain victory or defeat in politics, whether for an election campaign or a legislative battle. Each chapter takes a single concept from the military- strategy, leadership, training, intelligence, deception, logistics, friction, and finality- and applies it to political concerns ranging from campaign war chests to legislative tactics.
In his Athenaeum lecture, the first in the series Faculty Ideas in Progress, Pitney will use the military perspective to tell how Governor Bush and Vice President Gore are waging political warfare- even though they claim they are not.

One of CMC's most distinguished professors, Pitney has twice received the Glenn R. Huntoon Award for Superior Teaching. He has served as Deputy Director of the Research Department for the Republican National Committee and was the senior domestic policy analyst for the U.S. House of Representatives Republican Research Committee. He is coauthor of Congress' Permanent Minority? Republicans in the U.S. House (1994).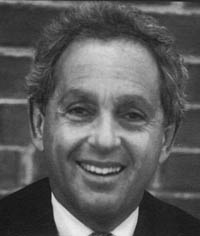 Welcome Dinner for the Class of 2004
Liberal Arts: What Are You Going To Do With It ?
HOWARD FIGLER
WEDNESDAY, SEPTEMBER 13, 2000
If you would like to find an answer to the above question without committing yourself to a predictable future, and without putting yourself in a box, you are invited to join the Dean of Students and the Athenaeum for a dinner and lecture specially arranged for CMC's freshmen class.

Howard Figler is eminently qualified to lead this discussion. Formerly the director of the Career Center at the University of Texas at Austin and nationally known author of the bestselling book The Complete Job-Search Handbook (3rd ed., 1999, Henry Holt), Figler earned his Diplomate in Counseling Psychology from the American Board of Professional Psychology, his Ph.D. from Florida State University, his MBA from New York University, and his B.A. from Emory University.

Figler will focus his remarks on issues that may affect important choices you will make throughout your career at CMC. The importance of emotional intelligence, the reasons why a liberal education is good for you and your career, and how to use resources at CMC to your best advantage will all be part of the evening's discussion.

All members of the freshmen class have already been signed up to attend the dinner and lecture by Howard Figler. If you find that you are unable to attend the dinner, please contact the Athenaeum (ext. 18244) to cancel your reservation.The 6:00 dinner is preceded by a juice and cheese reception at 5:30 p.m. Dr. Figier will speak at 6:45 p.m. and the evening concludes by 8:00 p.m.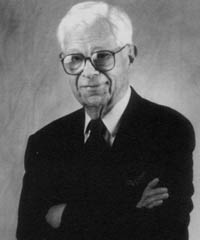 Forgive Us Our Press Passes
DANIEL SCHORR
MONDAY, SEPTEMBER 18, 2000
Veteran reporter-commentator Daniel Schorr, the last of Edward R. Murrow's legendary CBS team still fully active in journalism, currently interprets national and international events as Senior News Analyst for National Public Radio.

Schorr's career of more than six decades has earned him many awards for journalistic excellence, including three Emmys, and decorations from European heads of state. Civil liberties groups and professional organizations have also honored him for his defense of the First Amendment. In 1996, he received the most prestigious award in the field of broadcasting- the Alfred I. DuPont-Columbia University Golden Baton for "Exceptional Contributions to Radio and Television Reporting and Commentary."

His firsthand perspective on recent history broadens Schorr's analysis of current issues. In the U.S., he has covered government controversies ranging from Senator Joseph McCarthy's hearings on communism in 1953 to the Iran-Contra affair in the 1980s and 90s. Abroad, he has observed superpower summits from the Eisenhower-Khrushchev meeting in Geneva in 1955 to the Reagan-Gorbachev conference in Moscow in 1988.

In 1972, Schorr was assigned as CBS's chief Watergate correspondent. He unexpectedly found himself a part of his own story when the Senate hearings turned up President Nixon's "enemies list" with his name on it and evidence that the president had ordered him investigated by the FBI. This "abuse of a federal agency" figured as one count in the Bill of Impeachment on which Nixon would have been tried had he not resigned in August 1974.

Also in 1974, when the House of Representatives voted to suppress the final report of its investigations of CIA and FBI scandals, Schorr arranged for publication of the advance copy he had exclusively obtained. Suspended from CBS and threatened with jail for contempt, he refused to disclose his source on First Amendment grounds, saying that "to betray a source would mean to dry up many future sources for many future reporters.... It would mean betraying myself, my career, and my life." In the end, Congress decided against the contempt citation and CBS asked him to return; instead, he chose to resign in order to write his account of his stormy experience in his book Clearing the Air (1977). In his Athenaeum address, Schorr will discuss where journalists have gone wrong, why journalists rank so low with the public, and how journalism will survive the Internet.

Daniel Schorr's appearance at the Athenaeum is cosponsored by the Keck Center for Strategic and International Studies.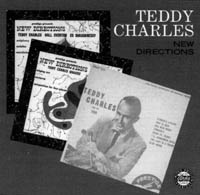 American Jazz Institute Chamber Orchestra: The Teddy Charles Tentet
TEDDY CHARLES, vibraphone
JOHN NAGOURNEY, vibraphone
MARK MASTERS, conductor, American Jazz Institute Chamber Orchestra
KYE PALMER, trumpet
DANNY HOUSE, alto saxophone
BILL PERKINS, tenor saxophone
BRIAN WILLIAMS, baritone saxophone
BILL ROPER, tuba
CECILIA COLEMAN, piano
PUTTER SMITH, bass
SHERMAN FERGUSON, drums
TOM HYNES, guitar
DAVE WOODLEY, trombone
PAUL KLINTWORTH, french horn
TUESDAY, SEPTEMBER 19, 2000
Along with Milt Jackson and Terry Gibbs, Teddy Charles ushered the vibraphone into the modern era. While influenced by the masters Lionel Hampton and Red Norvo, Charles had, by the late 1940s, assimilated the vocabulary of Charlie Parker and Dizzy Gillespie, making a name for himself as a vibes player during the heyday of bebop in New York.

Between 1952 and 1955 Charles recorded a series of groundbreaking albums for Prestige and New Jazz, called "New Directions, Volumes 1-5." Charles developed a compositional approach to jazz, eschewing standards in favor of unfamiliar, original material. His concept was to fully integrate the written and improvised sections of a jazz performance to provide new contexts and challenges for the artist.

Charles was a participant in the Charles Mingus Jazz Cornposers Workshop which also included such major talents as George Russel, Gil Evans, John LaPorta, Teo Macer, and many others with an interest in composition and experimentation. He subsequently formed the Teddy Charles Tentet- an unusual ensemble made up of three saxophones, trumpet, tuba, guitar, vibraphone, and rhythm section- whose recordings for the Atlantic label in 1956 have become classics. This music, fortunately reissued on compact disc, remains fresh and full of surprises some forty-three years after its initial release.

This is a rare and wonderful opportunity to meet and hear a performance by one of the great jazz artists of all time. The American Jazz Institute chamber ensemble, directed by Mark Masters, will perform the music of the Teddy Charles Tentet.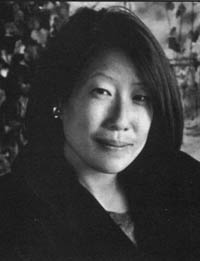 Cultural Identity in a Hyphenated America
GISH JEN
WEDNESDAY, SEPTEMBER 20, 2000
Gish Jen, a prominent Asian-American author, had to walk a long and strenuous road to pursue her career as a writer. Despite her family's insistence that she pursue "a more dignified and appropriate career," Gish Jen followed that which she knew best and has established herself as a well respected, highly acclaimed contemporary writer.

Her book Typical American (1991) was a New York Times notable book of the year and a finalist for the National Book Critics' Circle Award. Her second novel, Mona in the Promised Land (1996) was also a New York Times notable book and the Los Angeles Times named it one of the ten best books of 1996. One critic writes, one of the greatest charms of Gish Jen's fiction is her position as a bemused chronicler- of the way things are in this crazy mishmash of an America, of the power and the limitations of family roots, and of the hugely comic potential in human nature.

Gish Jen has written for The Atlantic Monthly, The New Yorker, The New Republic, and The New York Times. A story of hers was one of the twenty recently chosen by John Updike for Best American Short Stories of the Century (1999).

Gish Jen received her undergraduate degree in English from Harvard University in 1977, and an MFA from the Iowa Writers' Workshop in 1983. She comes to the Athenaeum as part of the series Crossing Borders.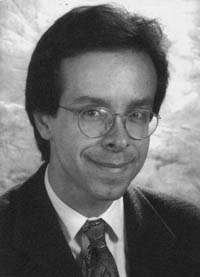 Miscarriages of Justice in the 21st Century: Coercion, False Confessions, and the Wrongful Conviction of the Innocent
RICHARD LEO
THURSDAY, SEPTEMBER 21, 2000
Why do innocent people sometimes confess to crimes they did not commit? At what point does a zealous police interrogation become too coercive? Should police be given more or less freedom when trying to persuade criminal suspects to confess? The first speaker in the Athenaeum's Psychology and Law series will attempt to answer these and other questions.

Richard Leo is Professor of Criminology, Law and Society at UC Irvine and an internationally recognized authority on the psychology of police interrogation practices. To understand these practices, he has observed or analyzed more than 500 interrogations and received interrogation training from several law enforcement agencies. Professor Leo's research on the social psychology of coercive interrogations, false confessions, and wrongful convictions has been honored with awards from the American Psychology-Law Society and the American Society of Criminology.

Please join us to learn more about this important and provocative topic.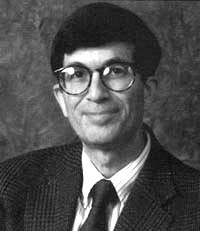 Cancer Myths and Realities
DAVID SADAVA
MONDAY, SEPTEMBER 25, 2000
One in every three Americans gets malignant cancer sometime in their lifetime, and one in four dies of it. This disease exacts heavy costs in human and economic terms. Is the rate of cancer in our population still rising? Can you get cancer from other people? Do things such as radiation from power lines or drinking coffee cause cancer? Are natural foods much less cancer-causing than foods from the supermarket? Has there been much progress in cancer treatment over the past decade? Does psychological well-being help to fight cancer? Are complementary medical treatments, such as Chinese herbs, valuable for cancer? Is gene therapy for cancer possible?

David Sadava, Pritzker Family Foundation Professor of Biology at CMC's Joint Science Center is active in cancer research, and teaches courses on the subject. He has just spent a year working on cancer chemotherapy at the City of Hope Medical Center while on sabbatical leave. Sadava has worked in this field for seven years, his prior interests being in cell biology and chemistry. He has a variety of research interests, ranging from the biochemistry of human development to plant physiology to the genetics of thoroughbred racehorses. He has coauthored with Claremont undergraduates over 30 research papers and is the author or coauthor of four books, including a leading general biology textbook and a book on plant genes and agriculture.

The U.S. "declared war on cancer" some time ago. You are invited to come to the Athenaeum for an update on how the war is going. Professor David Sadava's lecture is part of the series Faculty Ideas in Progress.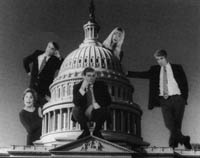 Capitol Steps: There's Something Funny Going on in Washington
MIKE THORNTON
MIKE LOOMIS
ANDY CLEMENCE
TRACEY STEPHENS
ANN SCHMITT
MARC IRWIN, piano
TUESDAY, SEPTEMBER 26, 2000
The Capitol Steps are what Washington would be like if everyone were smarter and could sing.

-P.J. O'Rourke

The Capitol Steps make it easier to leave public office.

-President George Bush

The Capitol Steps are a troupe of Congressional staffers-turned-comedians who travel the country satirizing the very people and places that once employed them. Since they began, the Capitol Steps have recorded twenty albums, including their latest, "It's Not Over 'Til the First Lady Sings." They've been featured on NBC, CBS, ABC, and PBS and can be heard four times a year on National Public Radio stations nationwide during their "Politics Takes a Holiday" radio specials. The Capitol Steps have performed for the last four Presidents.

The Steps got their start in December 1981 at a Christmas party for the Senate Foreign Relations Committee, when three members of Illinois Republican Senator Charles Percy's staff were asked to provide entertainment. So they decided to dig into the headlines of the day, creating song parodies and skits that have become the group's signature brand of satirical humor.

Most cast members have worked on Capitol Hill; some for Democrats, some for Republicans, and others for politicians who firmly straddle the fence. In fact; the current cast of the Capitol Steps has at one time or another infested the offices of eleven U.S. Senators and seven Members of the House of Representatives. Most of these politicians have either been defeated or placed under investigation. No matter who holds office, there is never a shortage of material- political scandal, controversy, and missteps ensure that the Capitol Steps have plenty to sing about.

For all who suffer from politics-as-usual weariness or pre-election stress, the Office of the Dean of Students and the Athenaeum are bringing the Capitol Steps to CMC to remind everyone that fact is funnier than fiction. Come join the fun. Dinner is for CMC persons only. The performance is open to all.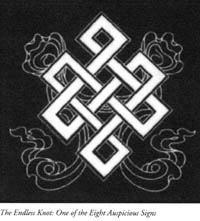 Tibet and Tibetans Since the Chinese Invasion
TASHI NAMGYAL
WEDNESDAY, SEPTEMBER 27, 2000
Tashi Namgyal served as joint Secretary of the Department of Security of the Tibetan Government-in-Exile (1998-1999). He was primarily responsible for the security of His Holiness the Dalai Lama. His previous position as Representative of His Holiness in Nepal (1993-1998) involved oversight of the refugee community of 20,000 Tibetans and liaison with other diplomatic missions in Nepal and the United Nations High Commission for Refugees.

The Chinese occupation forces reached the small nomadic encampment of Namgyal's family around 1957, bringing starvation and devastating thought-reform programs to Eastern Tibet. At age five or six, Namgyal escaped with neighbors and walked West across Tibet for two years. In Mustang, Nepal, the CIA-supported Tibetan guerilla force educated Namgyal and other boys (as noncombatants) in Buddhist scripture, foreign languages, and arithmetic, then sent them on to the first Tibetan-language schools established in India. Namgyal graduated from Delhi University in 1977 with a Bachelor of Commerce.

Asked to reconcile his devotion to the teachings of the Dalai Lama with his role in the Department of Security, Namgyal replied, "To protect His Holiness, you might have to use force against somebody, although His Holiness will not approve of that, but the life of His Holiness is more precious than anything else. You still pray for your enemy because his life is dear like your life."

Tashi Namgyal's visit to Claremont McKenna College is sponsored by the Keck Center for International and Strategic Studies.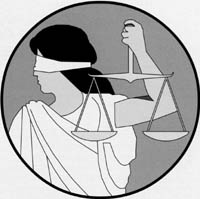 The Federalization of Criminal Law
SUSAN EHRLICH
THURSDAY, SEPTEMBER 28, 2000
As the second speaker in the Athenaeum's annual Constitution Day lecture series, Judge Ehrlich will address an issue that has been perceived as a threat to the U.S. constitutional system: the increasing federalization of criminal law and what that encroachment means for federalism generally and the historical principles of dual sovereignty. The fundamental view that local crime is a matter for the states to address has been strained in practice in recent years. Congressional activity making essentially local conduct a federal crime has accelerated greatly, notably in areas in which existing state law already criminalizes the same conduct. Judge Ehrlich served on the recent American Bar Association's Task Force on "The Federalization of Criminal Law" that documented this trend (and the reasons for it) and that provided specific recommendations to curb it.

Since 1989, Ehrlich has served as a judge of the Arizona Court of Appeals. After receiving her B.A. from Wellesley College, she worked as a research analyst in the Civil Rights Division of the United States Department of Justice reviewing cases of alleged racial discrimination in target companies. After receiving her J.D. from Arizona State University College of Law, she served as a Law Clerk for Chief Justice Jack D. H. Hay of the Arizona Supreme Court. From 1978-80 she was an attorney with the Appellate Section, Civil Division, U. S. Department of Justice in Washington, D.C., where she handled cases in every federal circuit. From 1981-89, she was an Assistant United States Attorney, Chief of Appellate Section, District of Arizona.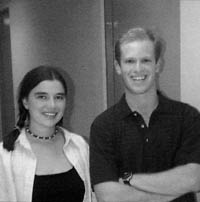 Welcome from the Athenaeum Fellows
SARAH BAIRD '01
TOM MEYER '03
Sarah Baird is a senior with an international perspective, having lived with her family in interesting places all over the world. Her main hope for this year is that the Athenaeum offers a wide variety of speakers (authors, politicians, comedians, you name it!) who will keep you interested and awake. Whether you agree with them or not, she hopes you will come, eat, listen, argue, and have a great time.

Tom Meyer is a sophomore and ROTC cadet majoring in history and literature. He has an acute interest in film, classical literature, bicycling, and writing. Tom hopes to continue to make the Ath the cultural hub of CMC where students can meet important and interesting people, attend world-class performances, and eat a good dinner at the same time.

See you at the Ath!