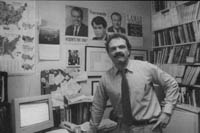 Bush, Gore, and the Art of Political Warfare
JOHN J. PITNEY, JR.
MONDAY, SEPTEMBER 11, 2000
A recent article in The Washington Post started with this passage: "While the unsuspecting Democrats rest in their beds, a group of four men in dark suits moves purposefully toward the Staples Center, site of the Democratic convention. As political warfare goes, this is a guerrilla attack: Coming down from the hills are Republican National Committee Chairman Jim Nicholson and three aides."

Other stories are full of references to strategies, tactics, offensives, retreats and blitzes. Why all the martial talk? In important ways, politics resembles warfare.

That's the theme of The Art of Political Warfare (2000), a new book by Professor John J. Pitney, Jr., from the University of Oklahoma Press. Applying military thought to domestic politics, the book persuasively argues that the writings of warriors and military analysts can teach us much about political activity.

The book discusses how military principles can explain victory or defeat in politics, whether for an election campaign or a legislative battle. Each chapter takes a single concept from the military- strategy, leadership, training, intelligence, deception, logistics, friction, and finality- and applies it to political concerns ranging from campaign war chests to legislative tactics.
In his Athenaeum lecture, the first in the series Faculty Ideas in Progress, Pitney will use the military perspective to tell how Governor Bush and Vice President Gore are waging political warfare- even though they claim they are not.

One of CMC's most distinguished professors, Pitney has twice received the Glenn R. Huntoon Award for Superior Teaching. He has served as Deputy Director of the Research Department for the Republican National Committee and was the senior domestic policy analyst for the U.S. House of Representatives Republican Research Committee. He is coauthor of Congress' Permanent Minority? Republicans in the U.S. House (1994).